The latest on the Russian nerve agent and how climate change is affecting fish and chips – Reading in the news Tues 20 March
20 March 2018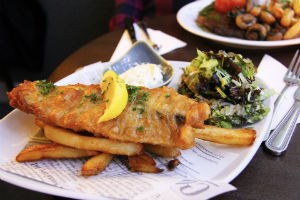 Russian nerve agent: BBC Online has produced 'story so far' piece on the Russian spy story - Prof Gary Stephens (Pharmacology) is quoted saying that Novichok is "a more dangerous and sophisticated agent than sarin or VX and is harder to identify". An article on DNA India also quote Prof Stephens.
Climate change threatening UK's favourite foods: Prof Bill Collins (Met) talks to BBC Radio Berkshire (approx. 9 mins in) about how climate change might impact classic British dishes such as fish and chips and chicken tikka masala.
Making smoked foods healthier: Dr Jane Parker (Food & Bioprocessing Sciences) presented research at the National Meeting & Exposition of the American Chemical Society which has found an alternative method to smoking food that reduces the number of carcinogens. Using a method adopted from the automotive industry, Dr Parker presented the case for introducing this method into the food supply chain. The news is covered by Phys.org, Scienmag and the American Chemical Society.
Paris climate target: A letter to the editor in Nature.com is co-written by Prof Ed Hawkins (Met). The letter calls for greater clarity into the interpretations of global temperatures and the baseline they are being tracked against in order to ensure mitigation responses are appropriate and consistent.
Other coverage:
Reading graduate Tomasz Schafernaker is interviewed on BBC Radio Berkshire (approx. 1 hour 16 mins in) about his experience of being a weatherman and his time studying at the University.
A Reading student involved in a YouTube football team talks to BBC Radio Berkshire about his experiences of playing for the team.
A WonkHE article on the importance of the food on offer on university campuses references some of the awards won by the University of Reading catering teams.
University researchers were part of an international team which has found that small scale agricultural farming was first initiated by indigenous communities living on Turkey's Anatolian plateau, and not introduced by migrant farmers as previously thought. Science Daily, Scienmag, Science Newsline and NewsCaf report.
An article on MSN.au on the topic of chocolate includes a section on 15 surprising ways chocolate is good for you - no. 8 is 'Improves vision'. This is according to Reading research in 2011, which revealed that chocolate may increase blood flow to the eye's retina, leading to improved vision.
Mo Al-Mosaiwi's article for The Conversation on absolutist language and depression has been reproduced for MTV.com.lb.
Tradeline features an article on the University's construction of a new Health and Life Sciences building.
Politics and International Relations PhD student Jamie Mulholland has written an overview of China's new legislative reforms for China India Dialogue.
An article on Chinese website JG.com examines the idea of using neuroscience to improve business. Prof Patricia Riddell (Henley Business School) says that whilst this aspect of business has caused challenges for many business schools it is not a problem for Henley, which has been collobarating with the University's Department of Psychology.