Fab five semi-finalists announced in race for university's Inspirational Woman award
21 March 2018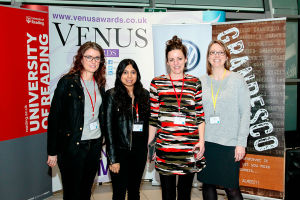 Five women with incredible personal success stories have been named as semi-finalists in the University of Reading's sponsored category in the Santander Thames Valley Venus Awards.
Those in the running for the 2018 Inspirational Woman prize were announced on Monday 19 March, at an event held at the Marshall Volkswagen showroom in Reading.
The University returned this year as a sponsor of one of the 12 categories in the Venus Awards. The regional women's awards initiative seeks to recognise the contribution of women in business to the local, regional and national economy.
A total of 39 entries were received by the University of Reading for the Inspirational Woman award. The five semi-finalists are:
Anna Sampson, Boomerang Creative
After 16 years working in creative design and marketing, Anna took over as general manager at Boomerang Creative. The Newbury-based company offers services including brand identity, digital design and advertising. In her nine months in the role, she has overseen the team almost double in size and bring in high-value new clients. She has also supported staff with flexible working arrangements and created the company's first ever apprenticeship role.
Gerry LeJeune, Berkshire Community Foundation
Gerry is Chief Executive of Berkshire Community Foundation, which provides grants and support to voluntary groups in the county. Having beaten cancer she took early retirement to dedicate herself to the voluntary sector, and has worked for Women's Aid, CAADA and Thames Valley Police, and advised the government on supporting domestic abuse survivors.

She was awarded an OBE in 2011 for services to support local victims of domestic abuse.
Julianne Ponan, Creative Nature
Julianne took over Creative Nature as a struggling company in 2012 and took it into profit within 18 months, even despite getting pneumonia in the first year and having to work from her hospital bed. A nut allergy sufferer herself, she developed award-winning nut-free snack bars and other products that were launched in several national supermarkets and around the world. She is also a mentor for Virgin Startups and a motivational speaker.
Louise Fetigan, Little Troopers
Louise founded Little Troopers in 2011 after realising there was a lack of support for children with parents in the British Armed Forces. She joined the Army as a teenager and saw active service in Kosovo before switching to a corporate career while her husband continued in the military. She works to ensure children like her daughter have the necessary resources and initiatives to cope with and understand the challenges they face due to frequent relocation and other pressures.
Meryll Praill, Newbury Soup Kitchen
Having set up a successful recruitment agency in London for nannies, mother's helps and maternity nurses, Meryll became a full-time mum and started volunteering at her local foodbank four years ago. She now runs her own soup kitchen after realising there were gaps in food provision on certain days of the week. The kitchen now feeds up to 45 people a week and offers outreach and mentoring services for homeless people.
The five semi-finalists were selected on the strength of their applications by a University of Reading judging panel.
Professor Ellie Highwood, the University of Reading's Dean for Diversity and Inclusion, said: "We were moved by the powerful stories of the women who entered our category this year, and whittling the entries down to just five was a tough process.
"We feel our five semi-finalists represent what is great about women in the Thames Valley area. They have each helped transform lives with their hard work, selflessness and entrepreneurial spirit."
The final three candidates for the Inspirational Woman award will be announced at Newbury Racecourse on 17 April, before the winners in all 12 categories are announced at an awards ceremony at the Madejski Stadium on 8 June.
Equality at the University of Reading
Reading has a history of promoting equality, and is believed to be the first university in England to appoint a female professor in Edith Morley in 1908. The Humanities and Social Sciences building on its Whiteknights campus was renamed in her honour in 2017. The Edith Morley lecture is now held annually, and was this year presented by aviation pioneer and Reading alumna Polly Vacher MBE.

The University has been recognised for its work increasing career development opportunities for female scientists and promoting diversity in key positions by the Athena SWAN initiative. Reading also appointed its first ever job-share members to the University Executive Board, allowing flexible working at board level.