Hiroshima atomic bomb blast brick donated to University of Reading
22 March 2018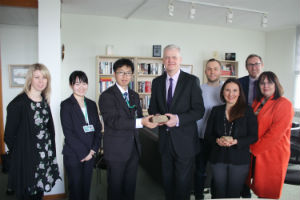 A scarred brick from a Hiroshima trade hall that was destroyed by the atom bomb at the end of the Second World War has been donated to the University of Reading.
The donation was made as Reading was one of a small number of UK universities, and the first, to respond to an appeal for books in 1951 by Hiroshima University, after the bomb was dropped on the city in 1945.
A representative from Hiroshima University visited Reading on Tuesday 19 March to present the two brick fragments, and photographs of the two donated books. The items will be displayed as a reminder of the destruction caused by atomic weapons and will be used in teaching and research carried out by the departments of History and Museum Studies.
Dr Mara Oliver, Lecturer in Modern American History, said: "We were honoured to host two guests from Hiroshima University, and humbled to receive this donation. These poignant items will serve as visual reminders of the unprecedented loss of life caused by the Hiroshima atomic bomb, but also of the process of re-establishing order and peace."
The donation means students at the University have access to more first-hand evidence of the devastation caused by the nuclear bomb dropped on the Japanese city on 6 August 1945, days before the Second World War came to an end.
It adds to a shattered roof tile, also salvaged from a riverbed close to the hypocentre of the bomb blast, which was donated by the University of Hiroshima in 2011. Like the tile, the donated brick and photographs will be used in teaching by the History Department and Museum Studies.
The gifts were presented to the Vice-Chancellor Sir David Bell by Rebun Kayo, chair of the Association of Hiroshima University for Sending Atomic-bombed Roof Tiles. The Association aims to continue awareness of the devastating effects of the Hiroshima atom bomb, and the other dropped on Nagasaki three days later, and to oppose the use of nuclear weapons.
Mr Kayo said he hoped that displaying the salvaged fragments would continue to tell the story of the Hiroshima bombing on behalf of the victims and survivors.
Mr Kayo received gifts from the University of Reading to take back to Hisorhima, before performing a recital on the shakuhachi – a traditional Japanese musical instrument.
During the visit, he spoke with academics and students from the departments of History and Museum Services. He was given a tour of University sites, including the Memorial Clock Tower and Anglo-Japanese Friendship Gate at the London Road campus, and the Archaeology building on Whiteknights campus, where the previously donated tiles are displayed.
Mr Kayo was also shown the University's old library, from which the two books were donated to Hiroshima in 1951. The donation was arranged by its then-librarian Mary Kirkus, and were added to a collection to form an international peace library in Hiroshima.