US China trade relations, Brexit impact and Ben Nevis weather data – Reading in the news Tues 27 Mar
27 March 2018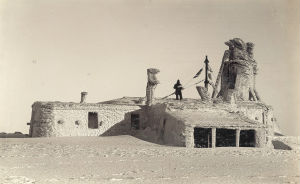 US China trade relations: Prof Rajneesh Narula (Henley Business School) is interviewed on BBC World discussing Trump's trade tariffs on China.
Ben Nevis weather station: BBC Online has a feature on how weather data from the top of Ben Nevis is helping us understand more about the effects of climate change. The story recounts how weather was collected by a team of dedicated scientists in the 1800s and how a weather station recently installed is recording live data to make comparisons to the historical recordings. The project, run by the NERC National Centre for Atmospheric Science (NCAS), is led by Prof Ed Hawkins (Met).The BBC story was syndicated on Cetus News. Read our story here.
Brexit impact: Vice-chancellor Sir David Bell spoke to BBC Radio Berkshire (approx. 9 mins in) about the impact Brexit could have on universities. The interview is trailed on the station throughout the day.
Flood control: An article in the Telegraph looking at the ways in which the UK is preparing for flooding in the face of extreme weather quotes Prof Hannah Cloke (GES). The article is syndicated on Yahoo News UK.
Are pickled foods good for you?: Wired.co.uk explores the current trend for pickling foods and whether or not this is good for you. Prof Glenn Gibson (Food) provides expert comment for this story.
Expanding the mind: A profile piece in The New Yorker on philosopher Andy Clark explores his theory of people using technology to enhance their mind and thoughts. The piece mentions Clark's fascination with the work of Professor Kevin Warwick (Emeritus Professor), who implanted a micro-chip in his arm to control lights, doors and heating in the building he worked in.
Why whales are so big: National Geographic reports on a new study into why marine mammals are so large. Dr Chris Venditti (Ecology and Evolutionary Biology) was not involved in the study but says that animal body size is important to measure because it relates to many other characteristics.
Helping hand: Henley Business School Malaysia has made a full scholarship offer to stateless girl, who hit headlines in Malaysia last week because she is unable to apply to university because she is not currently classed as a citizen. The story is reported in MSN Malaysia, Yahoo News Singapore, Malaysian Digest, Malay Mail and TODAY Online.
Less fatty lamb: A study by the University of Reading, led by Dr Kirsty Kliem (APD), has indicated that common British plants could have a positive effect on raising lambs with healthier fat levels. The research is covered by Meat Management. Read our story here.
Discovering new clouds: A blog by Dr Graham Marlton (Met) for The Conversation is a sky-spotter's guide to discovering new 'species' of cloud. The blog is syndicated on Indilens News Times.
Transform Awards Europe: The University was highly commended in the 'Best visual identity in the education sector' category at the Transform Awards Europe. Transform Magazine reports.
New UK Centre for Research on Energy Demand: Reading is among a number of institutions that make up the new UK Centre for Research on Energy Demand (UKCRED), to develop and deliver internationally leading research, focusing on energy demand. The news is reported in EurekAlert, Alpha Galileo and Oil Voice, and also on local radio station The Breeze. Read our news story here.
Other coverage: