New home secretary, digital trust, and the Royal Wives of Windsor: Reading in the News - 1 May
01 May 2018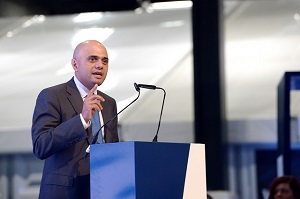 Home Secretaries: Russia Today UK spoke to Dr Mark Shanahan (Politics) about the resignation of Amber Rudd and the appointment of Sajid Javid.
Personal data: Ardi Kolah (Henley Business School) is quoted in Civil Society following his speech on GDPR last week, noting that the new rules mean companies have an opportunity to build "deeper digital trust".
Royal Wives of Windsor: Professor Kate Williams (History) appears in ITV's Royal Wives of Windsor looking at some of the women who have married into the Windsor family. BBC Berkshire (approx. 2hr 10 mins in) also noted the contribution of Prof Williams in an interview with the ITV show's producer.
Other coverage
Further reports in Gizmodo UK on a festival exploring 'transhumanism' who look to use technology to 'hack the human body'. The article notes Visiting Professor Kevin Warwick was the first person to have an RFID chip implanted.
BBC Berkshire (approx. 52 mins in) spoke to Professor Peter Kruschwitz (Classics) to discuss the discovery of an Ancient Roman poem inscribed on an altar.
Forbes looks at the life of former UoR Professor David Goodall. Professor Goodall, a botanist and ecologist, has decided to die by assisted suicide.

Further coverage of the launch of the Sports Hall of Fame at the UoR sportspark, on The Breeze FM.

BBC Berkshire (approx. 2hr 16 mins in) discussed the latest exhibition at the Museum of English Rural Life, including interviews with Erika Delbecque (Special Collections).
UoR Malaysia is mentioned in an article highlighting six cheap countries to study abroad, in Cosmopolitan Indonesia.
GetReading feature the UoR Big Band lunch taking place on June 3.
A news bulletin on the Breeze FM notes work by Prof Mike Fulford to excavate churchyards in Norfolk to expose the rich ancient history of the region.
Image credit:
Richter Frank-Jurgen
,
Sajid Javid, UK Secretary of State for Business, Innovation and Skills, about the UK government's initiatives in manufacturing, 2016. Accessed at: https://www.flickr.com/photos/horasis/27839443696.
CC BY-SA 2.0