Eyewitness memory expert gives masterclass lecture
08 May 2018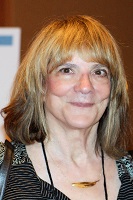 The world's leading expert has given a masterclass in eyewitness memory at a sold out public lecture at the University of Reading.
Professor Elizabeth Loftus, who has built a career researching and speaking about the unreliability of memory spoke to an audience about her work, which has seen her provide expert testimony in some of the biggest court cases including the O.J. Simpson trial, the officers involved in the beating of Rodney King and Bosnian War trials in the Hague.
Watch Professor Loftus' sold out lecture >>>
Loftus was presented with the Albert Wolters Distinguished Visiting Professorship, joining an illustrious group of academics who have received the honour which include Professors Noam Chomsky, Steve Pinker and Ellen Bialystok.
Professor Laurie Butler, Head of the School of Psychology and Clinical Language Sciences said:
"We were treated to a world class lecture in a fascinating and often controversial field of psychology. Professor Loftus is one of the most pre-eminent living academics in our field, and to present her with the [Albert Wolters Distinguished Visiting] professorship and welcome her to the University of Reading was an honour."
As part of Professor Loftus' visit, school children from across Berkshire were treated to a seminar based around her book, Eyewitness Testimony which is a key text in the A Level Psychology syllabus.
Watch Professor Loftus' public lecture here:
https://youtu.be/v74njgJKcqU