Calls for UN to back child safeguarding protection
10 May 2018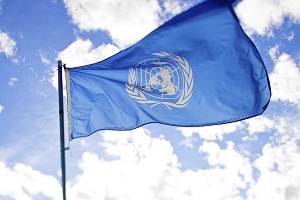 A new project between the University of Reading and NGO Keeping Children Safe is calling on the United Nations to protect children from exploitation and abuse in the context of peacekeeping missions.
Following work in Africa, Central and South America, Professor Rosa Freedman from the School of Law at the University of Reading has developed the Safeguarding Children in Peacekeeping Project with Keeping Children Safe to design and implement evidence-based interventions to safeguard children from exploitation and abuse in the context of peacekeeping missions.
Professor Rosa Freedman, Director, Global Development Division at the University of Reading said:
"Children in parts of the world affected by war, conflict or natural disasters are among the most vulnerable to abuse. We look to the UN, as the global leader, to protect the most vulnerable, and to make safeguarding of children a critical and visible element of all its work.
"Our report on protecting the most vulnerable people, especially children, in situations of extreme physical and emotional risk makes clear recommendations on how organisations and initiatives that seek to help those people don't end up causing additional damage through abuse. We hope that World Leaders will champion our call by tabling a UN resolution on child safeguarding at their meeting this May (2018)."
Read the latest report, Protection of Civilians and Safeguarding Children here
Sarah Blakemore, Director, Keeping Children Safe said:
"No child fleeing the horrors of conflict or natural disaster should ever be put at risk of abuse by staff in organisations trusted to protect them. World leaders must take swift and concerted action to ensure organisations protect children from abuse and do all they can to ensure that the perpetrators of these horrific acts are brought to justice."
Millions of children are killed or disabled as a consequence of war and many more are likely to be in situations of extreme physical and emotional risk. Children are in already desperate and terrifying situations, but are also at risk of being abused by staff in the organisations sent to protect them.
The report authors note that the vast majority of peacekeeping personnel and staff in humanitarian organisations perform their jobs with courage, dedication and professionalism. However, there have been high profile cases of those who abuse children.
Sarah Blakemore said:
"Those few bring shame on the entire humanitarian system and betray the trust of those that they have been sent to protect."
The Safeguarding Children in Conflict and Crisis campaign is calling for:
All organisations to safeguard children in line with international standards
Donors to insist that the organisations and initiatives they fund implement robust child safeguarding measures
World leaders to champion the safety of children at the highest levels by tabling a UN Resolution on child safeguarding
Find out more information at:
https://research.reading.ac.uk/safeguarding-children/
More information about the campaign by Keeping Children Safe is available at:
https://www.keepingchildrensafe.org.uk/about-us/get-involved/new-campaign