Forecasting research behind new fund enabling response to disasters before they happen
11 May 2018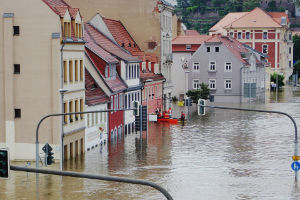 A ground-breaking new humanitarian fund strengthened by University of Reading research could mitigate or even prevent the damage and trauma caused by natural disasters worldwide.
The Forecast-based Action Fund uses a combination of weather predictions and historical data to predict when disasters like flooding are imminent in vulnerable areas, and trigger the automatic release of money for pre-agreed early action plans.
The new Forecast-based Financing (FbF) fund was launched on Monday 7 May in Geneva by the International Federation of Red Cross and Red Crescent Societies (IFRC).
Dr Liz Stephens leads Reading's FATHUM project, which is a major research projects informing the new fund. She said: "Reading's research has helped advance forecasting skill to allow the early warnings this system depends on, meaning families are provided with the support they need before they are impacted by the disaster."
Forecasting research by scientists in the FATHUM project helped pioneer FbF as a concept to inform early responses to disasters on a local, national and international scale. Their work contributed to its first ever implementation, by the Uganda Red Cross in 2015.
In this example, river forecasts from the Global Flood Awareness System were used to indicate when vulnerable communities would be affected, activating the release of funds for distribution of water purification tablets and other measures to reduce the impact of the flood.
The Forecast-based financing approach – now being rolled out by IFRC at national level – has been piloted at community level since 2014, including in Peru, Togo, Uganda, Bangladesh, Mozambique and Mongolia. In Bangladesh, predicted flooding of the Bramaputra river in 2017 triggered cash grants for people who were able to use this money to support their families during the emergency.
Fifteen National Red Cross and Red Crescent Societies in Africa, Americas and Asia Pacific are currently developing Early Action Protocols for foreseeable and preventable natural disasters and are expected to access the fund in its first two years. However, the facility can be available for all 190 National Societies.
Pascale Meige, IFRC's Director of Disaster and Crisis Prevention, Response and Recovery, called the fund a 'game-changer'.
She said: "For decades, humanitarians have been calling for a shift to proactive and preventative humanitarian action, but such action has so far been sporadic. For the first time, this fund, and the work we are doing to build country-level plans and agreements, can consistently deliver on this promise – turning promises into action.
"It means that life-saving action can now take place before anyone is in immediate danger, which will save lives and reduce the need for more costly emergency response and recovery efforts."
The Fund is being supported by the German Federal Foreign Office, with technical guidance from the German Red Cross, the Red Cross and Red Crescent Climate Centre and other partners.
Peter Felten, Head of the Humanitarian Assistance Division at the German Federal Foreign Office, said: "It's time to change how we are planning and delivering humanitarian assistance. Waiting for disasters to happen should not be an option any more.
FATHUM is a joint project by the Natural Environment Research Council (NERC) and the government's Department for International Development. It is funded under the Science for Humanitarian Emergencies and Resilience (SHEAR) research programme.
IFRC's Disaster Relief Emergency Fund (DREF) has been supporting Red Cross and Red Crescent disaster and crisis response activities for more than 33 years. DREF offers start-up funding allocations for large-scale disasters, and grants to fund responses to small- and medium-scale crises that have not attracted international attention or support. Forecast-based Action by the DREF expands DREF's reach beyond providing resources for disaster and emergency response, to also encompass forecast-based early action for the first time.