Two scientists walk into a bar…
14 May 2018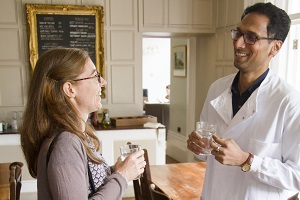 …One explains how to control computers just with your mind, and the other how to help Lady Gaga and millions of others suffering with chronic pain.
This week (14-20 May) in four venues across three nights, pubs in Reading will be host to a series of fun and informative talks by scientists from the University of Reading, Royal Berkshire Hospital and more.
The first ever Pint of Science event to take place in Reading will see 22 speakers share their expertise on a variety of subjects as varied as animal conservation, neuroscience and wearable technology.
The events will include a special evening on Wed 16 May at the Best Western Plus Hotel in Sindlesham with water experts talking about flood prevention – made all the more interesting as the room being used has flood marks up the wall from the flooding of the River Loddon in 2014.
The events are all taking place in local venues around Reading, and tickets are on sale for £4 or the price of a pint.
Dr Katie Cooper, Co-Chair of the British Science Association in Reading said:
"The Pint of Science events are a great opportunity to talk about scientific discoveries in a more relaxed environment – and in the first year of the event in Reading we're really excited to have supported a programme with topics that matter to local residents.
"As we are increasingly told by some people that we can't trust experts and that we are living in a post-truth world filled with fake news, it is so important that the latest developments in science are taken out of the lab and into the rest of the world."
Full details of all the events, venues and speakers including where to book can be found at:
https://pintofscience.co.uk/events/
Dr Manuela González-Suárez, Lecturer in Ecological Modelling, who will be speaking on 'Why did the Rhino cross the road' at the Your World, Your Science night on 15 May said:
"Roads fragment landscapes, cause pollution and animals are run over on them, but they are something we are going to continue to need in the future. I will be talking about work we are doing to find out what impact modern infrastructure has on wildlife so we can find out where to build new roads, and where bridges and crossings could help animals continue to move around. The work could help save species in parts of the world from extinction."
Anna Freeman, PhD researcher who will be speaking on 'The 'Blue Planet' is a few steps away' at the Your World, Your Science night on 15 May said:
"People don't get excited about the Thames like they do about the oceans. Biodiversity in rivers and lakes can be just as rich, but is in dramatic decline. People in the pub might have more sympathy for the creatures in the Thames. This is a place where millions of organisms live, and if they are not happy it will turn back to us like a boomerang. I want people who were fascinated by Blue Planet just to take a different look at rivers, as they are just as rich and amazing as the oceans – more interesting actually."
Dr Alister McNeish, Associate Professor of Pharmacy, who will be speaking on 'A high pressure fishy tale' at the Living with Your Body in Health and Disorder night on 16 May said:
"For people with high blood pressure, eating fish can be as effective at lowering it as some of the drugs on the market. I'm going to spend some time explaining why many people would be better off eating fish, as many don't realise how effective it can be. I hope people take away that some of the health claims for foods are blown out of proportion, but some may be real. We're finding out more all the time about which effects may be real and which are not."
Dr Deepak Ravindran, Consultant in Anaesthesia, Pain and Musculoskeletal Medicine at the Royal Berkshire Hospital, who will be speaking on 'What if Lady Gaga Needed Surgery in Reading? Improving the Lives of our Fibromyalgia Patients' at the Living with Your Body in Health and Disorder night on 16 May said:
"It used to take 15-20 years for research to get to the hospital bedside, but since the introduction of social media that time is becoming shorter. Now we get our knowledge in bite size chunks, and patients are more empowered to take the right decisions when they have more knowledge. Festivals like Pint of Science are ways of raising awareness levels, as information needs to get to the public earlier so they are aware of the possible treatment avenues."