Reading 'leads the way' on reducing plastic waste - Reading in the news Mon 14 May
14 May 2018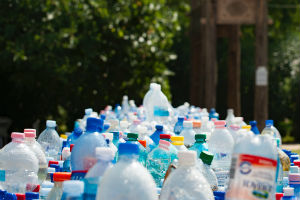 Here is today's media coverage report.
Reducing plastic waste: Sky News featured the University's Sustain It drinks machines, which allow students to fill up reusable bottles, throughout its Saturday rolling news coverage. The trial at Reading, and support from students, was also discussed in a later interview on the programme. An article also appears on the Sky News website praising Reading for taking the lead on tackling single-use plastic, and clips from the interview with Matt Tebbit (Head of Catering) are used by several regional radio stations, including dozens of Heart stations, Talk Radio and Kildare FM in Ireland. Read more about the scheme here.
Child abuse crackdown: The Observer runs an article on the issue of child abuse in conflict zones around the world, and calls for the UN to do more to combat this. This includes a toolkit developed by Reading academics (School of Law) alongside the charity Keeping Children Safe. Read our news story.
Farming cyber attacks: Countryfile on BBC One (from 28 mins) visited the University of Reading's Centre for Dairy Research to look at how technology can help farming, but also introduce new risks such as hacking.
Royal wedding: CNN quotes Professor Kate Williams (History) in an article on how Meghan Markle, due to marry Prince Harry this weekend, is rewriting the princess story.
Regional accents history: Country Life tells the story behind Britain's regional accents, with the help of Professor Jane Setter (English Language and Linguistics).
Citizen science: The London Evening Standard previews a new exhibition on the sun at the Science Museum in Kensington, which will feature the launch of a citizen science project on space weather in collaboration with the University of Reading.
Science in the pub: Ahead of the national Pint of Science initiative coming to Reading for the first time, Get Reading runs a preview featuring the University of Reading speakers taking part. Read our news story.
Other coverage
The London Mother run an article about spotting signs of anxiety in children, featuring Profssor Cathy Creswell (Psychology)
An obituary for Professor Peter Waddington on BBC Radio 4 (14 mins 30 secs) mentions that he worked at Reading before setting up the UK's first degree course in policing at Wolverhampton University
The Guardian Nigeria runs an interview with Henley Business School graduate Hauwa Ojeifo in its Guardian Woman feature. Now a mental health coach, she talks about facing up to her own issues and advises others to seek help early
The Independent runs an obituary for former Reading Professor of Agricultural Botany, Professor David Goodall
The involvement of Reading students in the Reading Adopt Your Street (RAYS) scheme to tidy up communities is mentioned in articles by Get Reading and Reading Chronicle
Professor Mark Fellowes (Biological Sciences) was interviewed by WAMU FM in Washington DC on Reading research showing how much squirrels stealing food from bird feeders is costing the British public. An opinion piece in iNews and a piece on Brinkwire also discuss the issues squirrels cause. Read our news story
A Reading cybernetics graduate competed on Robot Wars on BBC Two
Henley Business School's latest ranking of business schools by the Financial Times is mentioned in a story by IOL in South Africa. Read more about the rankings in Henley's news story
Computer Weekly uses Reading's migration of its academic support workshops to a research cloud as a case study in an article on IT management