How plants talk to each other underground - Reading in the news Tue 15 May
15 May 2018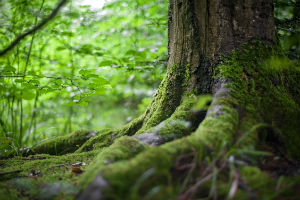 Here is today's media report.
Plants and funghi: Radio 4 (19 mins) visited the University of Reading to interview Dr Brian Pickles (Biological Sciences) about the interaction between plants and funghi below the soil.
Climate change language: US website Futurism reports on a study by Dr Sylvia Jaworska (English Language and Applies Linguistics) of language used by oil companies in their communication about their environmental responsibilities. The research suggests the oil industry is avoiding taking action by distancing itself from climate change while suggesting through its language that it is engaging with the issue. This followed an article written for The Conversation by Dr Jaworska.
Gender and risk tolerance: Coverage of research from academics at Henley Business School on gender and attitudes to financial risk appears on Advisor.ca. Read the Henley news story here.
Bird feeder theft: BBC South breakfast news briefly reported Reading research (Biological Sciences) revealing how much squirrels are costing bird lovers in lost feed by stealing from bird feeders in gardens. Read our news story.
Other coverage
This week's Pint of Science initiative, where 19 Reading academics will be speaking about their research in pubs across Reading, was discussed on BBC Radio Berkshire (10 mins 55 secs) by Yuhan Hu. Read our news story

The most recent issue of Waitrose Weekend features tips from Mark Swain, Director of Partnerships at Henley Business School, for those who struggle with self-assertion

Pro Vice-Chancellor for Global Engagement Vincenzo Raimo is pictured in a Get Reading article at the Pride of Reading Awards launch party, where the University is sponsoring the Young Person of the Year award
Further coverage on Packaging-Gateway.com of the University's efforts to cut plastic waste, as featured on Sky News on Saturday. Read our news story on how the use of plastic bottles and plastic straws is being reduced on campus
The Iskandarian in Malaysia reports on the University of Reading Malaysia signing an MOU agreement with the Department for Women's Development to work together to promote career opportunities for women