University flies flag for LGBT community
17 May 2018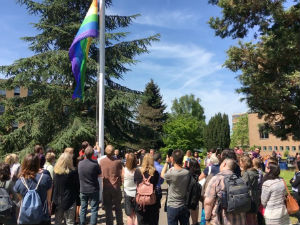 The University is showing its support for LGBT+ communities in a week of activities around the International Day against Homophobia, Biphobia and Transphobia (IDAHOBiT).
A special rainbow flag-raising ceremony took place on the Whiteknights Campus at 1pm on Thursday 17 May (IDAHOBiT day), led by members of the University's LGBT Plus Network, LGBT+ Student Society and Professor Robert Van de Noort, the Pro-Vice-Chancellor for Academic Planning and Resource.
In addition, the University will be holding a series of events to mark the 30th anniversary of Section 28 of the Local Government Act 1988 – repealed only in 2003 - which stated that local authorities shall not "promote the teaching in any maintained school of the acceptability of homosexuality as a pretended family relationship".
Key among the events is the annual Wolfenden Lecture, which this year will be given by internationally renowned internationally renowned LGBT+ and human rights activist Peter Tatchell. His talk, "Section 28: A Poisonous Law and Legacy" will be taking place on 24 May at 7pm on the Whiteknights Campus.
Book your place at the Wolfenden Lecture >>>
The University is also hosting a seminar discussing the impact of Section 28. The event, "Section 28: Context, Impact, and Resistance" will see a panel discussion between University of Reading academics and activists.
Book a place at the seminar >>>
The University of Reading has a web page dedicated to diversity action and news.For more information about LGBT+ policies and support at the University, plus how you can help promote equality and diversity, click here.