Flying the flag for diversity - Reading in the news Fri 18 May
18 May 2018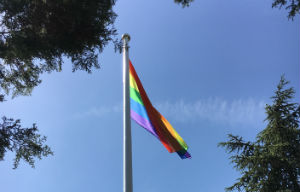 Here is today's media report.
LGBT+ policies: RUSU Diversity Officer Leen Alnajjab spoke to BBC Radio Berkshire (1 hr 26 mins 25 secs) about the IDAHoBiT flag raising and other action to promote equality and diversity taken by the University and Student's Union. Read our news story.
GDPR: Henley Business School's GDPR Transition Programme executive fellow and director Ardi Kolah spoke to Security Brief in New Zealand and HR Magazine about how companies should efficiently move to the new GDPR data law compliance this month.
Other coverage
International coverage of a paper showing ozone-damaging CFC emissions are rising again continues, with expert comment from Dr Michaela Hegglin (Meteorology). The Express, VA in Sweden and The Science Page all report