The Macron effect, the Royal Wedding, and will we see carbon levels go down any time soon? Reading in the News - 21 May
21 May 2018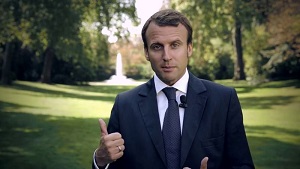 Carbon levels: Professor Ed Hawkins (Met) is quoted in an article for Lad Bible on new research suggesting that the world won't see carbon levels below 400 parts per million for the indefinite future.
Absolutism: A column for the Guardian examines absolutist thinking and its relationship with wellbeing, and references Mo Al-Mosaiwi and Prof Tom Johnstone's research on absolutist language and depression.
Royal Wedding: BBC Radio 4's World at One (23 mins in) spoke to Prof Kate Williams (History) about the announcement that Prince Charles would walk Megan down the aisle. Her comments also were played on BBC Radio 2, 6 Music, and local BBC radio. BBC R4 Today Programme (1hr 45 mins in) also spoke to Prof Williams about the royal couple's future as they look to focus on causes and issues that matter to them. US National Public Radio report on the Royal Wedding and how it reflects a changing culture in the UK. Prof Williams is quoted, and the article also appears on local US radio stations.
Macron effect: The Financial Times reports on a resurgence of popularity in a French HE institution citing the "Macron effect". Jean-Pierre Choulet (Henley Business School) is quoted.
Other coverage
Image credit: Gouvernement français, 2014, accessed at: http://www.gouvernement.fr/gouvernement/la-nouvelle-france-industrielle-change-notre-quotidien. Attribution-ShareAlike 3.0 France.