Reading expert advises landowners on helping protect pollinators ahead of European Parliament presentation
22 May 2018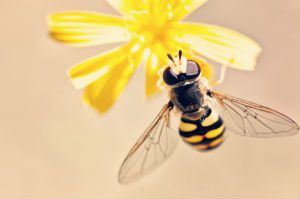 Landowners hold the key to improving the fortunes of bees and other pollinators, a scientist has said ahead of his talk at the European Parliament.
Dr Mike Garratt, of the University of Reading, is set to address members of the European Landowners' Organization (ELO) in Brussels on Tuesday 22 May. He will outline current scientific evidence and explain how land management techniques can support creatures that play a vital role in world food production.
He also called for more support from the EU to support land managers to take action to help pollinators before it is too late.
Dr Garratt, Senior Research Fellow in Agri-Environment at the School of Agriculture, Policy and Development, said: "How we manage land, especially farmland, can have a huge impact on bees and other pollinators. At the moment, loss of important habitats threatens these species, but actually bees and land managers can help each other.
"So many crops are dependent on pollinators, but pollinators themselves depend on their habitats being preserved. Increased government support and incentives across Europe would help land managers to make changes that could save bees as well as their crops."
Dr Garratt pointed to the current Common Agricultural Policy (CAP) reform, national action plans and farm advisory services as opportunities for governments to help land managers to do more to support pollinators.
Techniques land owners can use include multifunctional field margins, which provide habitats and feeding spaces for pollinators, among other agricultural benefits.
The Brussels event, titled 'Pollinator-friendly farming: What's possible now?', will be hosted by Karl-Heinz Florenz MEP, of the European People's Party. Attendees will also hear from Humberto Delgado Rosa, Director for Natural Capital at the European Commission, and a panel of other experts.