Oaty Yoghurt snack sees Reading students compete for UK prize
24 May 2018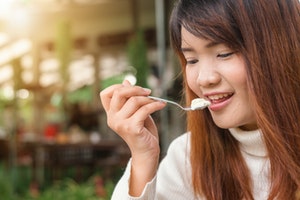 A team of Food and Nutritional Sciences students has made it into the final of the UK Ecotrophelia competition for new food product development.
The OAT-YOG team, who have developed a vegan, oat-based vanilla yoghurt snack, will present their idea to the a panel of food experts from Marks & Spencer, Coca-Cola, Mondelez, PepsiCo, Sainsbury's, Unilever, Warburtons, Food Manufacture and Campden BRI.
Competing against four other student teams, the winning entry will receive £3,500 and go on to compete in the European finals in October.
The OAT-YOG Cacao, Cherry and Almond product is a vegan, oat-based, vanilla yoghurt alternative, with a 'supergrain' cluster topping containing recycled oats, puffed quinoa and sorghum wheat; and the clusters each contain cacao, cherry and almond.
The team are made up of final year students Florence Stringer, Reece Wilkinson, Elizabeth Gray, Liwen Zheng.
Professor Richard Frazier, Head of the Department of Food and Nutritional Sciences at the University of Reading said:
"Food and nutritional sciences have had a long and distinguished place here at Reading, and I'm delighted that our students are once again recognised among the most innovative in the country. Our expertise and facilities provide students with a real experience of the kind of work that happens in industry.
"We are proud that our relationships across the sector provide our students with opportunities like professional placements and participation in international student competitions that enhance their skills and experience such that more than 96% of our students are working or in further study after graduation."
The OAT-YOG team in 2018 follow in the footsteps of a winning 2017 for the University of Reading. Last year, the Yasai Caulirice Sushi team scooped the top prize in the UK competition and in the European-wide competition won a silver medal for their low calorie take on sushi.
Find out more about Yasai Caulirice Sushi at:
https://www.reading.ac.uk/food/InspiringStories/fns-ecotrophelia-story.aspx