Rwandan smallholder farming project wins climate award
29 May 2018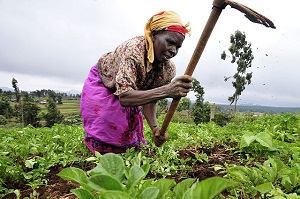 A project developed to support smallholder farmers adapt to the changing climate that has helped more than 75,000 farmers in Rwanda has scooped one of the first Climate Smart awards.
The Rwanda Climate Services for Agriculture project was announced as the winner of the first Climate Smart Agriculture Project of the Year Award. The awards recognise outstanding projects that bring together multiple stakeholders in the agriculture ecosystem—from governments, donors, and NGOs to the private sector—to form new partnerships that improve productivity, resilience, and efficiency while lowering carbon output.
Farmers across Rwanda have benefitted from the project which is training extension staff and volunteer farmers in a process known as Participatory Integrated Climate Services for Agriculture (PICSA). The trained agricultural extension personnel have led 75,000 farmers through the process of understanding local historical and forecast climate information and incorporating it into their farm and livelihood planning.
Dr Peter Dorward from the University of Reading who is part of the project team that developed PICSA, said:
"We are delighted that the project received this prize in recognition of its success, much of which is due to PICSA. A team at the University of Reading developed PICSA in response to the growing need for methods to help farmers address challenges of climate variability and change.
"PICSA is a novel approach that focuses on supporting small-scale farmers in their planning and decision making, and so far 75,000 farmers in Rwanda have received PICSA training across twenty districts.
Monitoring and evaluation from the first year of the project show that 93% of farmers that had been trained in PICSA made one or more changes to their crops, livestock or other livelihood activities as a direct result; and farmers had shared information they had obtained from PICSA with on average 13 other farmers.
As part of the role in the project, the team from the University of Reading has adapted PICSA for the Rwandan context and support partners in Rwanda to train government and NGO staff and farmers as well as to research and learn from the processes."
Jim Hansen, leader of the CCAFS Climate Services and Safety Nets Flagship Program (sic) said:
"Our collective work benefits from a particularly strong set of government and local and international partners and generous support from USAID at the level needed to strengthen Rwanda's capacity to produce, deliver and use climate services. This investment of human and financial resources, and innovative solutions such as ENACTS and PICSA, have made it possible to make things that have previously only been demonstrated a pilot scale work for farmers on a national scale."
Desire Kagabo, CCAFS Rwanda Climate Services for Agriculture Project Coordinator based at CIAT said:
"It is essential to build on local governance structures. For example, the hybrid of the 'Twigire Muhinzi' homegrown extension service system and PICSA, enables farmer champions in villages to rapidly reach a large number of farmers with weather and climate information to effectively inform farmers' decisions at farm, household and community levels."
Find out more about the Participatory Integrated Climate Services for Agriculture (PICSA) project here:
https://research.reading.ac.uk/picsa/