Patient care focus of first joint health research conference
29 May 2018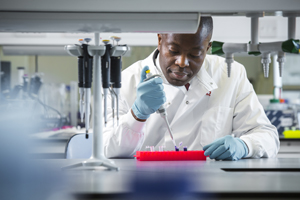 Research to improve how patients are cared for was one of the key focuses in a new conference run between Berkshire Healthcare Foundation Trust and the University of Reading.
The joint health research conference drew together clinical researchers and healthcare professionals from the two institutions to hear about different ways that collaborative research is improving patients' lives – from children with anxiety through to older people with dementia.
The National Institute for Health Research (NIHR) Clinical Research Network's CEO Dr Jonathan Sheffield gave a key note address focusing on the importance of clinical trials, in a talk entitled 'Clinical Research is the Future'.
Dr Jonathan Sheffield said:
"Over the last twelve years the NIHR has led the transformation of clinical research in the NHS. Our job over the next ten years is to modernise the way we do research using digital and big data to deliver better and safer care for patients in the NHS."
Professor Laurie Butler, Head of School of Psychology, University of Reading said:
"The University of Reading benefits greatly from the relationship that we have with clinical practice in all areas of healthcare. From being able to provide practical experience for students training in healthcare through to being able to work with patients to discover and improve treatments, the opportunities for academic involvement with clinical research is crucial."
Dr Minoo Irani, Medical Director Berkshire Healthcare NHS Foundation Trust said:
"While it is intuitive that research participation and research systems bring benefits to patients and to society as a whole by resulting advances in healthcare, the research collaboration between Berkshire Healthcare and Reading University has specifically contributed to improvements in quality of healthcare experienced by our patients who have participated in several of our joint research studies."
Case studies:
Anxiety and Depression in Young People (AnDY) Research Unit
The AnDY Research Unit is based in the School of Psychology and Clinical Language Sciences at the University of Reading.
For the past 18 years, work at the University have been committed to improving the understanding of, and the treatment for, anxiety and depression in young people. The Clinic has worked extensively within the Berkshire Healthcare Foundation Trust Child and Adolescent Mental Health Service (CAMHS), and in December 2016 AnDY opened as an independent, University-run research clinic to complement work done by CAMHS.
At the clinic, we assess and treat young people aged between 7-17 for anxiety and depression disorders, as well as undertaking research into the development, maintenance and treatment of such disorders.
https://research.reading.ac.uk/andy/
Dementia Research
Professor Arlene Astell, Professor in Neurodegenerative Disease, University of Reading
Prof. Arlene Astell has been researching psychology to supporting people to live and age well, looking at everything from touch screen computer systems to support conversations between people with dementia and their carers through to accessible tools for monitoring food and drink consumption for older adults.
For more than 18 years, Professor Arnell has been looking to understand how developments in technology can assist in the lives of people as they get older. Read more about her latest work, using archived British Broadcasting Corporation (BBC) material to explore ways to trigger long-term memories for people with dementia, and in doing so improve their quality of life:
http://blogs.reading.ac.uk/the-forum/2018/05/22/jogging-memories-with-sounds-and-pictures/
Mental Health Research through an Academic Practice Unit
Dr Parastou Donyai and Kate Masters
Dr Parastou Donyai from the University of Reading worked with Kate Masters from Berkshire Healthcare Foundation Trust to look at Paliperidone Palmitate, a long-lasting drug used to treat schizophrenia.
The research, published in Neuropsychiatric Disease and Treatment, followed 50 patients prescribed paliperidone palmitate (PP), a version of the antipsychotic drug which is injected by healthcare professionals once a month instead of taking oral medicine daily. The team observed that the patients who received the monthly injections were 1.8 times more likely to be discharged from an inpatient psychiatric hospital stay than those taking other antipsychotics.