New book looks at "dangerously short-sighted" first year of Trump administration
02 November 2018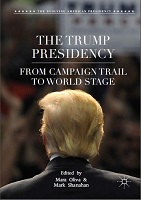 Donald Trump's shock US election result and resulting tumultuous first Presidential term is the topic of a new book edited by academics at the University of Reading.
Bringing together 10 preeminent US political and modern history researchers based in UK universities, The Trump Presidency: From Campaign Trail to World Stage edited by Drs Mara Oliva and Mark Shanahan takes a critical look at the political substance and style of the 45th President of the United States of America.
Dr Mark Shanahan, Associate Professor of Politics at the University of Reading said:
"The book looks at the extent to which President Trump is indeed a truly different President. Sadly, in many respects we have concluded that he is delivering a very ordinary Republican presidency, but through an extraordinary public persona.
"While Trump isn't the first President to come from outside politics – arguably Eisenhower more fundamentally broke convention in this respect, and Reagan came from an acting career into politics later – his disregard for Washington conventions and fundamental disrespect for others has been unparalleled in the 242 years of America's nationhood."
The first section of the book looks at comparisons with notable 20th century Presidents, including Eisenhower and Reagan. In addition, Professor Mark White from Queen Mary University of London examines whether Trump has more in common with John F. Kennedy than most people realise, by comparing their use of rhetoric and reframing of news reporting about the White House.
Trump's campaign promises to build a "great wall" on the Mexican border, his courting of the alt-right, and his relationship with race and gender are the topics covered in the second section. 'Winning at Home' showcases Trump's domestic policy leanings and how his administration is rolling back protections for women and racial and ethnic minorities. Writing Grab 'Em by the Legacy: Rolling Back the Years with President Trump, Dr Clodagh Harrington from De Montfort University looks at both the tone and rhetoric of the Trump campaign as well as specific policy-promises relating to women's rights.
Finally, 'Winning Away' paints a picture of Trump as a 'dangerously short-sighted' diplomat with no understanding of the role of soft power – with his preference for an America First policy of protectionism. Dr Mara Oliva from the University of Reading in particular looks at Trump's relationship with China and the Far East – one again demonstrating the current President's "chaotic" dealings internationally, noting that Chinese officials call him a "paper tiger" – appearing threatening but ineffectual.
Dr Mara Oliva, Lecturer in Modern American History at the University of Reading said:
"Through 12 chapters, The Trump Presidency makes a compelling case that the current President is a 'brash narcissist' in Washington and 'dangerously short-sighted' in foreign policy; more concerned about public and highly visible approval from his fawning supporters than leading the country.
"The man who arguably caused the biggest upset in Presidential history has provided a rich source of study – not least through is Twitter account – and by relegating the norms of campaigning and governing to the era of BDT (Before Donald Trump).
"Now the nation is set to vote in the midterms – arguably a vote for the direction that the current President has taken the country. Although Trump himself has sought to make the election about immigration, and Democrats about healthcare, the man himself may prove to be the most divisive issue in November 2018."
The Trump Presidency is available to order as an e-book, and hardback at:
https://www.palgrave.com/gb/book/9783319963242
Furthermore, a series of blog articles by the authors have been published at:
https://research.reading.ac.uk/american-history-politics/