British Museum wins planning permission for storage and research facility in Shinfield
15 November 2018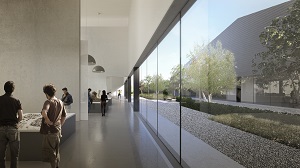 Plans for the British Museum's new storage and research facility in Shinfield have been approved by Wokingham Borough Council.
The proposed Archaeological Research Collection (BM_ARC), a joint initiative between the Museum and the University of Reading, will house objects from the British Museum's world-renowned archaeological collections, focusing on 3D materials such as sculpture, mosaics and historic cast collections.
Professor Robert Van de Noort, Acting Vice-Chancellor at the University of Reading, said: "This is an important next step in what will be a first of its kind partnership between a national museum and a UK university.
"Reading has a global reputation for excellence in Arts and Humanities subjects, having recently been named in the top 150 in the world*. We are already developing plans with the Museum to explore a wide range of potential research synergies, building on our existing collaborative research. We are also planning ways to work together through our University Museums to benefit local schools and members of the public."
The new development will be a global research facility, forming part of the Museum's work to make its collection accessible to as many people as possible. Study rooms will give students, academics, school groups and members of the public enhanced access to the collection. The Museum will work closely with the University of Reading, local museums (including the University's museums) and partners in developing new ways of looking at and learning from the collection. A loans hub will allow the Museum to lend objects from the research collection directly to local, national and international venues.
Hartwig Fischer, Director of the British Museum, said: "I am delighted that planning permission has been granted. This hugely exciting project, in partnership with the University of Reading, will deliver significant public and research benefits. The Museum's study collection is of incomparable research value and the facility will ensure more access to the collection for study and loans, fulfilling two of the central purposes of the British Museum."
The new building will cover a site of more than 15,000sqm and be situated next to the University-owned Thames Valley Science Park.
The planned single-storey 15,628sqm building will be designed by John McAslan + Partners and will consist of three connected blocks providing custom-designed space to store, study, share and conserve the collection. A courtyard will bring natural light and views out to the adjacent ancient woodland to occupied areas. Sensitive to its surroundings, the building will blend into the landscape using a mix of natural facing materials and muted colours. Perimeter hedge boundaries will be retained, and new landscaping and planting will create additional habitats, including wildflower meadows.
Construction will begin in 2019, subject to conclusion of the planning process. The building will be completed and objects moved in by March 2023.
*According to the 2019 Times Higher Education World University Subject Rankings: Arts and Humanities