New kilo definition the culmination of Reading scientist's work
16 November 2018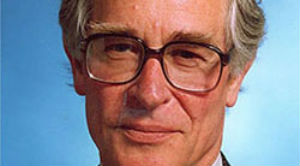 The redefining of the kilogram and other units of measurement this week was set in motion by a scientist at the University of Reading.
Emeritus Professor Ian Mills was a researcher in Chemistry at the University from 1957-1995, and later published a great deal of research calling for the kilogram to be defined using fundamental laws of physics.
The value of the kilogram had for more than 100 years been based on a metal cylinder called the Big K, kept in a vault in Paris. However, material items like these are not absolutely stable, and the mass of the Big K and its copies have drifted apart over time.
The new definition uses electrical energy to quantify mass, as laid out in Planck's Constant – a scientific theory formulated by physicist Max Planck. It was ratified along with three other units this week at the 25th General Conference on Weights and Measures in Versailles, France.
"Professor Mills used his fundamental understanding of mass and matter to propose changes to the way we measure the world around us" - Professor Parveen Yaqoob, University of Reading
In several pieces of research published over more than a decade, Professor Mills argued for the need to implement an International Systems of Units (SI) for all units of measurement. This involved bringing the definition of the kilogram in line with other units like the meter or second.
SI measurements are based on constant values in nature, making them accessible to anyone. The meter, for example, was previously defined using a metal bar but is now based on the distance light travels in a vacuum in an exact period of time.
After his work acted as a catalyst for the development of the new SI system, Professor Mills was a key part of its implementation as President of the International Consultative Committee for Units, a division of the International Bureau of Weights and Measures, from 1995-2012.
Professor Parveen Yaqoob, Pro-Vice-Chancellor for Research and Innovation, said: "I would like to pay tribute to Ian Mills for his achievement in helping to change the definition of the kilogramme.
"This is the very definition of research with impact. Professor Mills used his fundamental understanding of mass and matter to propose changes to the way we measure the world around us several decades ago. He has continued to work towards that aim which will have benefits for people around the world."
Professor Mills was awarded an OBE in the New Year Honours in 2015 for services to chemistry and metrology – the scientific study of measurement. He is one of nine University of Reading scientists to have been elected a Fellow of the Royal Society.
Also redefined at the Versailles meeting were the ampere (electrical current), Kelvin (temperature) and mole (quantity of atoms or molecules). All of the new definitions will come into effect in May 2019.