Dementia research involving animals benefits from discussion with the public
21 November 2018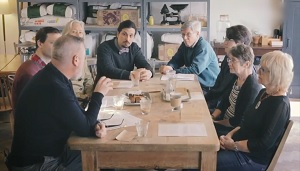 Engaging with the public and researchers could have a beneficial impact to helping decide the direction of animal research, according to a new paper published in Dementia.
In a series of filmed discussions with members of the public, leading researchers in the field of dementia discussed the role that animal research plays in better understanding how to tackle the disease.
The videos and resulting academic journal article make the case for involving the public – especially those with experiences of dementia – to help decide how research should be directed and communicated to the wider world.
Dr Francesco Tamagnini from the University of Reading said:
"The public can play an important role in how and why we research topics such as dementia. With animal involvement in research being a topic that provokes a lot of sentiment on both sides, having a full and frank discussion about why we use animals in research was eye opening for myself and I'm confident that the public panellists felt the same.
"We know that the role of research exists to help make the world a better place. Through the experience of discussing with lay members from the Alzheimer's Society and in my previous experience of public involvement, the academic and public are both better off through working together."
Watch the video Of Mice and Dementia here
In a spirited discussion, members of the public asked about these issues including the ethics of involving animals in research, best practice in minimising the impact of research on animals, and how new research techniques could lead to no longer requiring animal subjects.
The resulting paper, a joint effort between the Universities of Reading and Exeter and the Alzheimer's Society Research Network, sets out some of the key themes experienced in the making of the film, and suggests that through the involvement of the public in the discussion and dissemination of research that the quality of research and the public understanding of work being done to address dementia can be improved.
Dr James Pickett, Head of Research at Alzheimer's Society, says:
"Dementia is a global health crisis, with one person developing it every three seconds across the world. Research will beat dementia, but we need funding and the help of people affected by the condition to play a key part in making this a reality. Animal research plays its part in developing effective treatments, alongside non-animal and human-based research, but must only be used when absolutely essential.
"Patient and public involvement (PPI) is vital not only to improving dementia care for people who urgently need it today, but also for driving forward research to find a cure for tomorrow. Involving people affected at every stage of research ensures that it is relevant to them, as well as providing researchers with invaluable insights into living with the condition that they would not otherwise have.
"Where research into dementia lags far behind other terminal conditions – there is one dementia researcher for every four cancer counterparts – it's a trailblazer for patient and public involvement (PPI). In fact, we currently have over 280 Alzheimer's Society Research Network volunteers across the country working alongside researchers to beat dementia. If you would like to join them, go to alzheimers.org.uk/researchnetwork."
Full citation:
Tamagnini, F., Cotton, M., Goodall, O., Harrison, G., Jeynes, C., Palombo, F., … Welsman, J. (2018). 'Of Mice and Dementia': A filmed conversation on the use of animals in dementia research. Dementia, 17(8), 1055–1063. https://doi.org/10.1177/1471301218789560
ENDS
Further details about the University of Reading's research involving animals are available at:
https://www.reading.ac.uk/research/research-environment/animal-research.aspx
Further information:
Research using animals can only be carried out where there is no practicable alternative and must be licensed by the Home Office. Researchers must support the principle of the 3Rs - the replacement, refinement and reduction of the use of animals in research. In cases where animal research is justified, the minimum number of animals is used and researchers maintain the highest standards of animal welfare.