Iraq heritage experts call for UN visit to enhance cultural rights
22 November 2018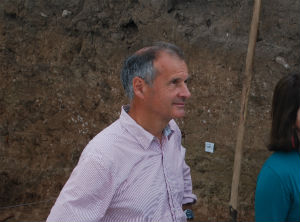 Experts working to safeguard Iraq's heritage have called on the UN's cultural rights investigator to visit the country to help it to benefit from its ancient heritage.
A report by RASHID International, whose president is University of Reading archaeologist Professor Roger Matthews, has been submitted to the UN Special Rapporteur for cultural rights, Professor Karima Bennoune, arguing a visit to Iraq would increase awareness of the importance of cultural rights in the country, as well as provide a boost to those defending them.
The report was submitted to mark the 10th anniversary of the creation by the UN of the Special Rapporteur role to address cultural rights and cultural diversity. It also outlines work currently being undertaken to protect and promote Iraq's heritage, including enhancing museums and history education.
Professor Matthews said: "Iraq has a wealth of history going back more than 10,000 years to when the world's earliest villages first appeared, and contains globally significant archaeology. However, much of this heritage is not accessible or fully celebrated today. We hope to change this and ensure the Iraqi people can own their history and use it to contribute to a thriving modern-day Iraq."
RASHID stands for Research Assessment & Safeguarding of the Heritage of Iraq in Danger. It is a non-profit worldwide network of archaeologists, cultural heritage experts and like-minded professionals seeking to help Iraq enrich itself using its history.
The report describes RASHID's work in enhancing cultural rights in Iraq. This includes providing technical assistance for ongoing restoration work at the Slemani Museum, the second-largest museum dedicated to archaeology in Iraq, and research into the legal framework in Iraq regarding looting of artefacts and protection of archaeological sites.
RASHID is also engaging with Iraqi representatives to provide advice, expertise and evidence for the country's upcoming Universal Periodic Review of its human rights.
RASHID has offered logistical assistance to the UN if a visit by the Special Rapporteur goes ahead, including facilitating a meeting with Iraqi cultural rights defenders and enriching their visit with expert knowledge of the country, its heritage and its people.
A new project led by Professor Matthews, along with Dr Wendy Matthews, is discussed in the report for its potential to enhance the teaching of history and create facilities to celebrate heritage in the region. MENTICA (Middle East Neolithic Transition: Integrated Community Approaches) is analysing early agricultural communities in Iraq and Iran to answer questions about how humans first made the transition from hunter-gatherers to settled farmers, founding the basis for cities and civilisations around the world that followed. It is backed by 2.5m euros worth of funding from the European Research Council.
The full RASHID report can be read here: https://tinyurl.com/y9e4mtxd