Reading archaeologist joins prestigious list of Cambridge college fellows
29 November 2018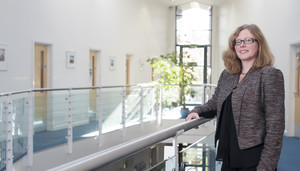 A medieval archaeologist at the University of Reading has been elected an Honorary Fellow at a University of Cambridge College.
Professor Roberta Gilchrist, Research Dean for Heritage & Creativity at the University, joins a prestigious list of Honorary Fellows recognised by Jesus College for distinction in their field.
Professor Gilchrist is an elected Fellow of the British Academy. She has published widely on the archaeology of medieval gender, religion, burial, magic and medicine. Her pioneering work on the archaeology of medieval religious women was of particular interest to Jesus College, which was established in 1496 on the site of a medieval convent.
Professor Gilchrist said:
"I am deeply honoured to have been elected by Jesus College, whose heritage resonates so closely with my research on medieval religious women."
Professor Gilchrist was voted Archaeologist of the Year 2016 in the Current Archaeology Awards. She led a study of excavations at Glastonbury Abbey, which revealed some of the best known archaeological 'facts' about Glastonbury were themselves myths kept alive by the abbey's excavators.
https://research.reading.ac.uk/glastonburyabbeyarchaeology/
The University of Reading's research cluster on Medieval Social Archaeology is one of the largest and most active centres of medieval archaeology internationally.
https://www.reading.ac.uk/archaeology/research/arch-MSAG.aspx
High profile projects include Dr Alex Pluskowski's investigations into the environmental impact of the Crusader states in the Eastern Baltic and the Reconquest in Iberia and Dr Gabor Thomas's excavations at the early monastery of Lyminge.