Walking tours with a difference offer adults a teen's perspective on Reading
02 October 2018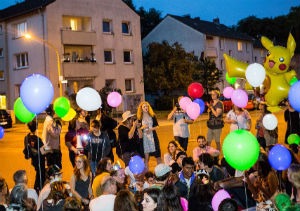 A teenager's view of Reading will be offered by pupils from a local school in a guided tour with a difference this week.
Pupils from Maiden Erlegh School Reading will design and lead two free performative Nightwalks tours this weekend in an artistic partnership with the University of Reading's Reading International project and award-winning Canadian theatre company Mammalian Diving Reflex.
Members of the community will be led around the town centre streets and experience them through the eyes of a teenager. The evening walks incorporate dance, laughter and play, and are aimed at encouraging dialogue between adults and young people.
Professor Susanne Clausen, from the University of Reading School of Art and Director of Reading International, said: "These unique tours offer an unsual social experience, allowing adults to take the hand of a Reading teenager to take a walk on the wild side and explore their town at night."
"The teenagers at Maiden Erlegh School Reading have had a chance to work alongside a professional theatre company, and now members of the community can come and experience the incredible performative journey they have created. Nightwalks are a chance to see Reading from a completely new perspective and uses the power of walking together to unite members of the community."
Mammalian Diving Reflex is based in Germany and Canada, and specialises in theatrical, socially engaged performances that bring people together in unusual ways and often put young people in the driver's seat. Previous performances have taken place in more than 80 cities around the world, including London and Bristol in the UK.
A team from Mammalian Diving Reflex travelled over from Canada to work with young people at Maiden Erlegh School Reading to create the walking performances. The walks are friendly, controlled performances, lasting around two hours.
The free tours are open to all and begin at 8pm on Friday 5 October and Saturday 6 October from outside Watlington House, 44 Watlington Street, Reading.