University's Refugee Scholarship Scheme nominated for Pride of Reading award
02 October 2018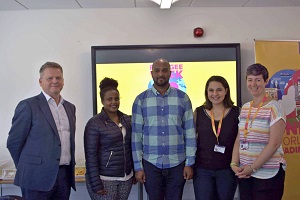 The University of Reading's Refugee Scholarship Scheme has been nominated in the Community Champion category at this year's Pride of Reading Awards.
Launched in June 2018, in partnership with Reading Refugee Support Group (RRSG) and Reading University Students' Union (RUSU), the Scheme will provide up to 14 university scholarships for refugees in the Reading area.
The nomination for the award came from RRSG, who said:
"We proudly nominate Reading University for playing a leading role in Reading and the UK in their forward-looking, community-building programme that provides life-changing opportunities for some of the most vulnerable people in Reading."
Speaking of the nomination, Professor Robert Van de Noort, Acting Vice-Chancellor of the University of Reading, said: "The University of Reading, in partnership with RUSU and RRSG, is proud to offer the Refugee Scholarship Scheme, which will enable refugees living in the area to access higher education and all the opportunities that come with it.
"To be nominated for the Community Champion Award in this year's Pride of Reading Awards is wonderful recognition of the joint effort and hard work that has gone into setting up the scheme."
The University hosted its first ever Refugee Open Day in June this year and has already seen interest in the Scheme from Reading's refugee community. Applications for scholarships will formally open later this term.
Following the launch, the University set up a donations page to accommodate offers of financial support for the Refugee Scholarships Scheme. Donations can be made by clicking here.
The winner will be announced at the Pride of Reading Awards ceremony on Friday 2 November.