Water politics geographer receives research award
05 October 2018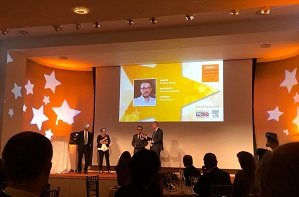 An academic who works on dams and politics has been awarded a prestigious prize as an early career researcher.
Dr Filippo Menga was presented with the Elsevier and US-UK Fulbright Commission UK Early Career Researcher Award for Social Sciences on Thursday 4 October, taking the prize alongside top researchers from other UK universities at an awards ceremony attended by over 75 senior figures from government, academia and industry.
Dr Menga said:
"I am delighted and honoured to receive this award for such an important and broad category as Social Sciences. I am passionate about interdisciplinary research and this is great encouragement for me to continue doing what I have been doing in the last few years."
The UK Early Career Researcher Awards comprise two separate award programmes. As part of their joint mission to support young researchers in developing their careers, Elsevier and the US-UK Fulbright Commission have partnered in hosting the awards since 2011. Winners of these awards are chosen by an expert panel of judges, drawing on citation and publication information from Elsevier's Scopus database.
The six 2018 UK Early Career Researcher Award winners are:
Environmental Science: Dr. Richard Millar, from the University of Oxford, investigates the physical and economic consequences of climate change.
Medicine: Dr. Sarah McGlasson, a postdoctoral researcher at the University of Edinburgh, conducts research to understand how immune activation can lead to neurological damage.
Social Sciences: Dr. Filippo Menga explores the interplay between humans and the environment with a particular focus on water politics, at the University of Reading.
Physical Sciences: Dr. Alex Ganose, from University College London, focuses on the discovery of energy materials, with a particular interest in photovoltaics and thermoelectrics.
Biochemistry, Genetics, Molecular Biology: Dr. Serene Chen studies protein aggregates such as the alpha-synuclein protein, whose deposition is one of the hallmarks of Parkinson's disease, first at the University of Cambridge and now as a postdoctoral research fellow at Imperial College London.
Arts and Humanities: Dr. Charlotte Wray, from Royal Holloway, studies atypical child development, such as risk of language disorder at school entry.
Ron Mobed, CEO of Elsevier, said: "Today's early career researchers find themselves in an ever-more competitive environment while the future of science and indeed the sustainability of our planet depends on them. Supporting young scientists in building their careers and studying some of the most challenging questions of our time is critical. The UK Early Career Researcher Awards will hopefully be an encouragement to these young researchers to make a lasting impact and help transform our society for the better."
"We are very pleased to have partnered with Elsevier this year again in supporting researchers to further their careers." said Penny Egan, Executive Director of the US-UK Fulbright Commission. "These awards acknowledge the significant contributions of UK researchers in a range of disciplines, as well as the institutions that encourage the development of early career talent."
Image credit: Colin Riordan, 2018.
About Dr Filippo Menga
Dr Filippo Menga is a Lecturer in Human Geography at the University of Reading, where he carries out interdisciplinary research exploring the interplay between humans and the environment. His research draws on political ecology, political geography, and critical geography to advance an innovative approach to the study of water politics, particularly in relation to hydraulic infrastructure and the hydropower sector.
Filippo is a fellow of the Royal Geographical Society with the Institute of British Geographers, a member of the American Association of Geographers (Political Geography Specialty Group), and an Associate Editor for the Setting-the-Agenda section at Political Geography. He is the author of Power and Water in Central Asia (Routledge), and co-editor (with Erik Swyngedouw), of Water, Technology and the Nation-State (Earthscan).
Further details are available at:
https://www.reading.ac.uk/geographyandenvironmentalscience/About/Staff/f-menga.aspx