Africa must take action! Climate change warning after IPCC report - Reading in the News Tues 9 Oct
09 October 2018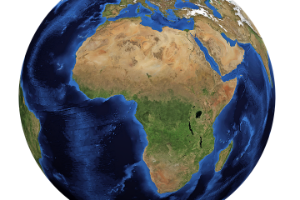 Climate change report: BBC World Service 'Focus on Africa' show and Carbon Brief interviewed Professor Chuks Okereke (GES) on the IPCC's special report into the impact of exceeding 1.5C above pre-industrial levels, after it was published on Monday. Prof Okereke spoke about how food production in Africa would be heavily impacted by a temperature rise, despite having contributed very little to climate change. He warned African countries need to take action to demonstrate on a national level it is committed to combatting climate change.
Professor Keith Shine (Meteorology) also spoke to Austrian radio station FM4 about the global impacts of temperature rise.
Farming archives: An 18th century book belonging to a teenager from a farming family in Kent, in the archives at The Museum of English Rural Life, made headlines on the BBC News website after the boy's doodles – including a chicken in trousers – in it were made the subject of a Twitter thread by The MERL, which was retweeted by Harry Potter author JK Rowling. Read The MERL's blog on other animals that wear clothes.
Other coverage
A blog on the Meteorology department website, on research looking at wind data going back to 1980 to analyse how the 2018 summer heatwave affected wind power generation, is picked up by The Guardian's Weatherwatch column.
A Meteorology student's campaign against anti-Semitism in the Labour Party is reported by Times of Israel.
Treehugger.com reports on Reading research (Agri-Environment) which reveals which houseplants are good for alleviating dry skin.
The ability of microplastics to move from larvae to adult flying insects, as demonstrated by Uiversity of Reading research, is reported by Concrete. Read our news story here.
Dr Gunter Kuhnle (Food and Nutritional Science) is quoted in articles by KTNV and Vaaju on the reported link between processed meats and breast cancer.
BBC weather presenter and Reading graduate Simon King spoke to BBC Radio Berkshire about the unusually warm temperatures this week.
The University's involvement in a sports festival for local schools is mentioned in a Reading Chronicle article.