Urban trees could be answer to hot office block woes
10 October 2018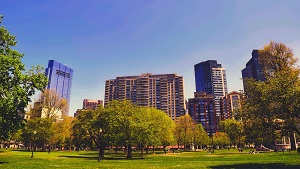 Officer workers feeling the heat could benefit from the planting of nearby trees, a new study by the University of Reading and Forest Research has found.
The paper in Urban Forestry and Urban Greening has found that air conditioned buildings saved energy when they had trees in close proximity, through the pre-cooling and humidification of the ways trees breathe in a process called 'evapotranspiration'.
Using the new approach to measuring trees effect on urban cooling, the team examined the effect of trees in the case study area of Inner London and observed that air-conditioning unit energy consumption fell by between 1.3% and 13%. This corresponds to an estimated annual savings of between £2.1 million and £22 million.
Dr Stefan Smith, Lecturer in Energy Systems in the Built Environment at the University of Reading said:
"We were surprised to see the extent to which the trees affected energy consumption in air conditioning units. We designed the study to take away less reliable measures of how trees cool urban environment"
"Large trees were particularly significant in their cooling effects according to the paper, even without consideration for the cooling effect that shading provides. We also found that some small and medium stature trees also had strong cooling effects, and these species offer the potential to create evaporative cooling in locations without sufficient space for a large tree canopy."
Co-author Dr Kieron Doick, Head of the Urban Forest Research Group at Forest Research said:
"This work adds to the suite of urban tree benefits that we can already value. We know that trees remove airborne pollutants, sequester carbon dioxide and intercept stormwater, and we can value these services. Trees also contribute to human wellbeing, though we cannot yet value this benefit.
"Quantification and valuation of the ecosystem services provided by urban trees is important as it can help make the case for protecting tree planting and maintenance budgets and to integrate building climate change resilience into cities."
The research follows work to explore how to estimate the size and value of the evaporative cooling effects of trees in urban areas. In the current study, the team developed a novel approach in which energy savings to air-conditioned buildings were modelled with and without air precooled and humidified by urban trees. This approach sought to overcome the short-comings of conventional, more simplistic, ways of measuring and valuing the evaporative cooling effects of urban trees.
The authors found that when making these estimations there remain many challenges, for example those around the effects of the variation in the form of the built environment and in the urban forest canopy. Further work is required to refine the methodologies used in this study so as provide more accurate estimates of the size and value of the evaporative cooling effects of urban trees.
Full citation:
Moss, J. L., Doick, K. J., Smith S., Shahrestani, M. (2018) Influence of evaporative cooling by urban forests on cooling demand in cities. Urban Forestry and Urban Greening, DOI: 10.1016/j.ufug.2018.07.023