Free online mental health support service launched for Reading students
10 October 2018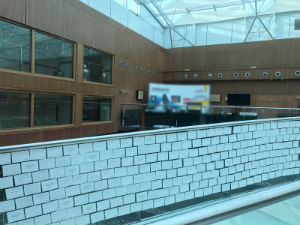 To coincide with World Mental Health Day, the University of Reading is launching a new online mental health support service for students.
Big White Wall is an online community for higher education students who are feeling stressed, anxious, down or overwhelmed. Members can get help and support from their peers by sharing their thoughts and feelings in an anonymous and safe environment, which is carefully monitored by trained professionals.
Big White Wall is available 24 hours a day, 7 days a week, 365 days a year. University of Reading students, who can sign up to the service for free, can also access self-help resources on topics like anxiety, depression, drinking, relationships and sleep.
Selina Patankar-Owens, Head of Student Wellbeing Services, said: "Big White Wall is one of the many services on offer to support students' mental and physical wellbeing, and is a great resource if they're struggling with issues such as low mood, anxiety or stress, as they can access it in the evenings or at weekends when counselling services aren't available.
"Students can share their feelings anonymously and connect with people who are experiencing similar things, and it can be used on its own, while they're on the waiting list for University counselling services, or alongside professional treatment."
More information about Big White Wall can be found at: www.reading.ac.uk/big-white-wall
In addition to the launch of Big White Wall, the University is introducing a number of improvements to its support for students' mental wellbeing.
A new Student Welfare Team has been introduced, providing professional and speedy support for students experiencing difficulties with life at university.
Students have access to one-to one appointments with a counsellor or mental health practitioner, group support sessions, and other self-help resources. A new triage system also offers telephone or face-to-face meetings for students to discuss issues in more depth and be directed to support that meets their individual needs.
Information cards have been distributed to students, making them aware of the range of support services available. University staff have also been given additional support on spotting warning signs that a student might be experiencing problems with their mental health and the most suitable support services to direct them to.
More information on the range of wellbeing and support services on offer to Reading students can be found here.