Solar storm project gets public support - Reading in the news Fri 12 Oct
12 October 2018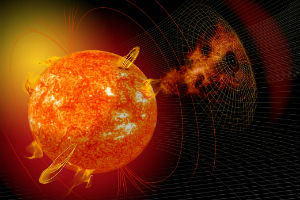 Solar eruptions: Inside Science on BBC Radio 4 (24 mins 20 secs) interviewed Professor Chris Scott (Meteorology) on his citizen science project, featured in a new exhibition on the Sun at the Science Museum, allowing members of the public to analyse solar storms to help scientists predict when they are on course for Earth.
Antimicrobial resistance: Farming Today on BBC Radio 4 (4 mins) interviewed Dr Partha Ray (Agri-Environment) about a study warning that weed killers could be adding to the issue of antimicrobial resistance.
US resignation: US Professor Rosa Freedman (School of Law) was interviewed as part of a panel on TRT World on the resignation of Nikki Haley, President Trump's Ambassador to the United Nations.
UK apple production: Fresh Plaza covers ongoing Reading research (Agriculture) suggesting climate change could make it possible to grow more international apple varieties in Britain, while impacting the quality of varieties currently widely grown here. Read our news story.
Other coverage
Image credit: NASA