Violence, memories and artefacts in new series of art exhibitions
16 October 2018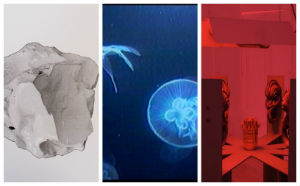 A series of contemporary art events delivered by internationally renowned artists will explore how moments in history have helped shape Reading's identity.
Reading International launches its autumn season of exhibitions this weekend, which respond to defining moments in the University of Reading's history, some orchestrated by students and young people, and its relationship with the town.
Highlights include work inspired by the newly re-opened Reading Abbey ruins, featuring contributions by members of the public, and a year-long look at an artist-led student occupation at the University in 1970. All the exhibitions and events will take place on and around the University's historic London Road campus, with a launch event taking place on Saturday 20 October.
Professor Susanne Clausen, Director of Reading International, said: "These diverse projects speak to all of us as they explore how we deal with collective cultural memory, how we project narratives onto museum objects and how violence or tragedy can evoke creative action. This is the latest series of Reading International events and exhibitions, bringing thought provoking and poignant artwork to Reading."
A new online publication of work inspired by the Reading Abbey ruins will be launched by Ukraine-based cultural organisation Method Fund. Creatingruin.net follows artist Lada Nakonechna's residency at the ruins, which were purged and damaged in Tudor times during Henry VIII's dissolution of the monasteries, and destroyed in the 17th century during the English Civil War. During the residency, members of the public were invited to produce their own artwork.
The online collection, designed by Lozana Rossenova, brings together work by artists and researchers to create cultural memory ruins. It is intended to kick start a discussion on how cultural archives are collected an interpreted, as well as reflect on the relationship between creative action and violence.
A reproduction of three weeks in May 1970, led by curatorial and publishing platform NOVEL, responds to the 1970 shooting of four students at Kent State University in Ohio, who were protesting about the Vietnam War. It also refers to artist Rita Donagh's subsequent decision to team up with students at the University of Reading a year later to produce a series of events and performances responding to the shootings.
As part of the project, billboards by Studio of Propositional Cinema displaying abstract text were erected in Reading town centre. They were intended to represent relearning to communicate in a world where methods like image, sound and writing have been eliminated. The billboards will be changed periodically until December to explore six hypothetical laws in this imagined society.
A screening of Partially Buried, by artist Renée Green, will also be held at the University. The film focuses on how artwork produced by Robert Smithson at Kent State University at the time of the shootings took on a different meaning, and how we interpret the past.
The Outside In, curated by sculptor and musician Steve Claydon, is being hosted by The Museum of English Rural Life (The MERL) at the University. Artefacts from Melanesia, a sub-region of Oceania, will be inserted into the museum's displays to explore how we attach meaning and narratives to objects, giving them values ranging from simple tools to spiritual symbols. The artefacts are from Clayton's personal collection, and will be joined in The MERL by new sculptural works.
These projects follow Nightwalks with Teenagers, which took place in Reading earlier in October, in collaboration with theatre company Mammalian Diving Reflex. These saw pupils from Maiden Erlegh School Reading lead walking tours offering a teenager's view of the town, with the aim of encouraging dialogue between adults and young people.
Reading International is a collaboration bringing world class art to Reading, and involves the University of Reading, Reading Borough Council and Arts Council England, supported by a grant from European Union within the framework of the Culture Bridges Programme.
More information about the Reading International autumn season can be found at www.readinginternational.org
FULL LIST OF EXHIBITIONS AND EVENTS
20 October 2018

2 - 4pm
Publication launch and performance​
Creatingruin.net
by Method Fund
School of Architecture, Old Library,
University of Reading
London Road Campus
27 London Rd, Reading RG1 5AG
4 - 6pm
A screening of Partially Buried (1996–97)
by Renée Green
Room LOG22
University of Reading
London Road Campus
27 London Rd, Reading RG1 5AG
A reproduction of three weeks in May 1970
Organised by NOVEL
May 2018–May 2019
A year long multi-faceted programme of events and exhibitions in multiple venues, featuring contributions by Patricia L Boyd, Helen Cammock, Renée Green, Studio for Propositional Cinema, and Steven Warwick
6 - 8pm
Exhibition opening
The Outside In
Steven Claydon
October 20, 2018 - January 13, 2019
The MERL
6 Redlands Rd
Reading RG1 5EX
Image caption: L/R: Lada Nakonechna, Creating Ruin, 2018; video still from Partially Buried (1996–97) by Renée Green; Steven Claydon, 'Zoetrope – The Earth Becoming World', 2017