Declining bee populations, hydrating house plants and beer shortages – Reading in the news Tuesday 16 Oct
16 October 2018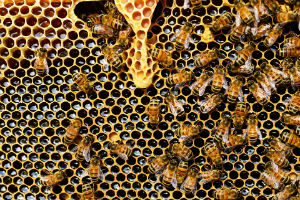 Declining bee populations: The University of Reading is supporting the World Bee Project, which is monitoring global bee populations and the effect of declining numbers on food production. BBC 1, BBC News 24 and BBC South report.
Hydrating house plants: The Huffington Post reports on a new study conducted at the University of Reading about the effect of house plants on air quality notes that some plants, including peace lily and ivy, are particularly effective at hydrating skin. Dr Tijana Blanusa (Ecology) is quoted. The story is also picked up by Swedish publication Halsoliv and Indonesian site Times Jakarta.
The impact of climate change on beer: The Guardian covers new research which has found that extreme weather damage to the global barley crop will mean price spikes and supply problems for the beer industry. Prof Richard Ellis (Crop Production), who was not involved with the research, comments on the findings. Wolf Tribune also reported on the research and quoted Prof Ellis.
Funding for future research at Reading: The National Environment Research Council (NERC) has awarded the University with funding for the next five years to support the next generation of environmental science researchers. Sam FM covers the news on its bulletins and it is featured on The Breeze. Read our news story here.
Report on young people's aspirations: Sam FM reports on a new report on aspirations for young people living in Whitley. Dr Sally Lloyd-Evans (Geography) from the University worked with Reading Borough Council and the Whitley Researchers on the project.
Other coverage:
The Express features an article on the UK's nuclear bunkers and included in the list is the Region 6 War Room, located on Whiteknights Campus. The shelter is no longer in use and is now a protected, Grade II listed building.
An article in Gizmodo on the impact humans have had on mammal populations explores in turn the ecological impact this could have on our everyday lives. Dr Manuela Gonzalez-Suarez (Ecology and Evolutionary Biology) is quoted.
Prof Kate Williams (History) spoke to BBC Radio Berkshire (approx. 2 hours 43 mins in) about the news that the Duchess of Sussex is expecting a baby.
BBC Radio Derby (approx. 1 hour 40 mins in) ran a feature on people running businesses or doing second jobs in their spare time, citing the research from Henley Business School on this growing trend, known as 'side hustling'.
Professor Ellie Highwood (Met) appeared on BBC Lincoln's The Weather Show (approx. 52 mins in) to talk about the impact of climate change on summer heatwaves.
Peter Woodward (Politics) spoke to US radio about the current inflation issues in Sudan.
An article in HPC Wire on what is new in the high-performance computing industry says that a new report, written by researchers from Reading, shows that an HPC certification program would help train new, and upskill existing, HPC practitioners.