Using space forecasts to protect Earth and how technology is saving honey bees – Reading in the news Weds 17 Oct
17 October 2018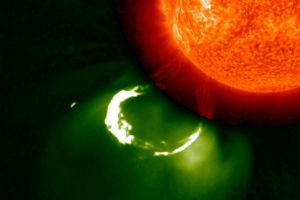 Outer space weather forecasts: Space weather observations from distant points in the solar system are crucial to improving forecasts of harmful events heading for Earth, new Reading research has shown. The story is picked up by The Independent and reproduced on Yahoo News Canada and Yahoo News New Zealand. Read our news story here.
Declining bee populations: The University of Reading is involved in the World Bee Project, which is using technology to monitor global honey bee populations and the effect of declining numbers on food production. The project is a world-first partnership that also involves technology and computing company Oracle. Euro News, Envirotec, IT News Africa, Environmental Journal and Data Centre Review report. Read our news story here.
Hydrating house plants: MSN Lifestyle and Yahoo Style (German) report on a new study conducted at the University of Reading about the effect of house plants on air quality notes that some plants, including peace lily and ivy, are particularly effective at hydrating skin. Dr Tijana Blanusa (Ecology) is quoted. Read our news story here.
The effect of climate change on beer: Further coverage of new research which has found that extreme weather damage to the global barley crop will mean price spikes and supply problems for the beer industry. Prof Richard Ellis (Crop Production), who was not involved with the research, comments on the findings and is featured in multiple US regional news outlets.
Other coverage:
A letter published in the Guardian, signed by a group of 54 academics, including Prof Rosa Freedman (Law), are calling for government protection to analyse the legality of proposed governmental reforms to the Gender Recognition Act, and their interaction with the Equality Act. The letter is reproduced on Yahoo News UK.
Hort News cover the news that climate change could alter the face of apple-growing in Britain. Read our news story here.
BBC Radio Wiltshire promoted an upcoming talk to be given by PhD student Ben Williams, who has been focusing on the decline in hedgehog numbers and how local communities can help the prickly creatures.
A number of Nigerian news sites report on the appointment of Reading graduate, Obinna Ufudo, as New Executive Director of Nestoil Limited.
A news item on the Royal Veterinary College website celebrates the successful collaboration of five HE institutions, including Reading, to form the Innovative Food Systems Teaching and Learning (IFSTAL) programme, whose aim it is to consider new approaches to addressing the challenges of food systems.
An article in The Business Magazine on the growing cluster of technology companies in Reading and the Thames Valley cites the importance of the University and Henley Business School in the region.