Reading signs Government pledge to tackle carbon emissions in higher education
18 October 2018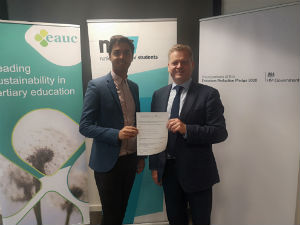 The University of Reading today became one of five UK universities to sign their commitment to the Government's Carbon Emissions Reduction Pledge 2020.
Launched during Green GB Week, the pledge requires the institutions that have signed to commit to reducing their carbon emissions by 30% by 2020, compared to a 2009/10 baseline.
Acting Vice Chancellor, Professor Robert Van de Noort, and President of Reading University Students' Union (RUSU), Jason Dabydoyal, met with Government representatives today, including Julian Critchlow, Director General, Energy Transformation and Clean Growth at the Department for Business, Energy & Industrial Strategy, and the Office for Students CEO Nicola Dandridge, to discuss the imperative for action on reducing carbon emissions in the higher and further education sectors and the role institutions can play in leading the way.
As a sector leader in the battle to reduce carbon emissions, Reading has already achieved a 37% reduction over the last nine years and has now set the ambitious target of reducing its carbon footprint by 45% by 2021 and 50% by 2026. In October 2017, the University was named among the top five English universities for reducing its carbon emissions, according to sustainability consultants Brite Green.
Nicola Dandridge, Chief Executive at Office for Students, said: "Universities are influential voices in local, regional and national society, so have an important role to play in showing leadership in our collective efforts to tackle climate change. Students expect their universities to be taking action on this issue, including by highlighting the impact of unchecked climate change and making sure they are leading by example in reducing their own carbon footprint. These universities are taking important steps to address a problem which will affect us all, and I hope many more universities will consider signing up to the emissions reduction pledge."
Professor Van de Noort said: "We welcome this initiative from the Government and hope our demonstration of support today will encourage other institutions to make similar commitments to reduce their carbon emissions.
"As a University, we are experts in the field of climate change research and know that to achieve a significant impact this must be a collective effort from the sector as a whole, not just a select few."
Mr Dabydoyal said: "The impacts of climate change are already being felt, and it is essential that we each play our part in reducing these impacts. This is a topic of great importance to the current generation, and we look forward to working with the University to deliver on its sustainability commitments."
Following last week's Special Report by the International Governmental Panel on Climate Change (IPCC), which involved input from University of Reading researchers, on the need to limit global warming to 1.5°C, the Government has announced it is seeking independent advice from the Committee on Climate Change on how to eliminate carbon emissions from its economy.
Other universities that have signed their commitment to the Carbon Emissions Reduction Pledge 2020 include: Northumbria University, University of Winchester, Newcastle University and University of Nottingham.
For more details on the University's Sustainability Services, please go to: www.reading.ac.uk/sustainability-services