Apples in future UK climate - Reading in the news Mon 22 Oct
22 October 2018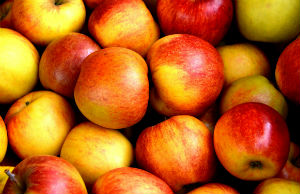 Apples and climate change: Farming Today on BBC Radio 4 (4 mins) visited Brogdale Farm in Kent, where researchers at the University of Reading and the National Fruit Collection are studying how climate change is affecting different apple varieties in the UK, including making flowering and harvest times earlier. Professor Richard Ellis (Agriculture) is interviewed. Read our news story on how these changes could allow different varieties of apple to be grown more widely in Britain.
Carbon emissions pledge: BBC Radio Berkshire (1 hr 12 mins) interviewed Acting Vice-Chancellor Professor Robert Van de Noort on the University of Reading's pledge to further reduce its carbon emissions. Read our news story.
Gender Recognition Act reform: The Guardian ran a feature outlining six legal views on the transgender debate surrounding the government's proposed reform of the Gender Recognition Act, including one by Professors Rosa Freedman and Rosemary Auchmuty (School of Law). Russia Today also interviewed Professor Freedman on the backlash against some academics who have criticised the reforms.
Accents and communication: BBC London (35 mins 35 secs) interviewed Professor Jane Setter (English Language and Linguistics) about UK accents, after a Scottish MP in Parliament was twice asked to repeat his question due to his accent.
Other coverage
A professional food taster who worked at the University of Reading tasting Cadbury's chocolate was interviewed on BBC Radio Lincolnshire.
BBC Radio Berkshire reports on a new research project by the University of Reading, calling for volunteers to help scientists to better understand dementia.