Reading students get exclusive chance to learn acting secrets of a Shakespeare great
24 October 2018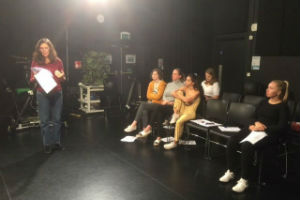 Budding actors from the University of Reading are set to benefit from acting tips handed down by the late founder of the Royal Shakespeare Company.
An exclusive workshop series will see techniques in delivering Shakespeare's iconic verse from influential director Sir Peter Hall taught to students by his daughter, actress Jenny Caron Hall.
The workshops were arranged after Hall met Professor Grace Ioppolo, a Shakespeare specialist at the University of Reading, and expressed a desire to begin teaching her father's methods. A trial workshop was arranged in September, and later this year students from all courses will be able to audition to take part in a second workshop.
Professor Grace Ioppolo, Professor of Shakespearean and Early Modern Drama, said: "We aim to make Shakespeare accessible to all, especially by taking the 'fear' out of reading Shakespeare. As Jenny told our students, 'We need to listen to the language' to understand and appreciate the plays.
"We hope that the students we teach will take these methods with them to professional theatre and education."
The first workshop delivered by Hall was held in the University's Minghella Building on Whiteknights campus on 28 September. Eight second and third year English Literature students worked with Hall on delivering passages from Henry V, Twelfth Night, A Midsummer Night's Dream, Hamlet and The Tempest.
Watch videos from the first workshop here >>>
They were helped to increase their confidence in speaking in the correct rhythm and pace, end-stopping and completing each other's half-lines. These are among techniques honed by Sir Peter, who founded the Royal Shakespeare Company in 1961 and was Director of the National Theatre from 1973-88. His methods, handed down through the UK's leading theatre companies since the sixteenth century, have been credited by well-known performers like Dame Judi Dench for helping them interpret and speak Shakespeare's language.
"We aim to make Shakespeare accessible to all, especially by taking the 'fear' out of reading Shakespeare" - Professor Grace Ioppolo, University of Reading
Professor Ioppolo, who was named Sam Wanamaker Fellow at Shakespeare's Globe theatre in 2017, also spoke to the students about her own research into how Shakespeare transported his work from pages of manuscript to 16th and 17th century audiences via the stage.
Hall played Helena in A Midsummer Night's Dream in 1982-3, and Miranda in The Tempest at the National Theatre in 1988. She met Professor Ioppolo in 2014, after discussing the Hall family's contribution to Shakespearean theatre on Twitter.
The first workshop was made possible through funding from the Vice-Chancellor's Endowment Fund.
Future sessions will be opened out to all students, not just those studying literature as part of their degrees, and are aimed at encouraging and nurturing acting talent.
A second workshop is scheduled for 6 December in a replica of an Elizabethan theatre in a London film studio. Auditions and a rehearsal for successful students are planned for late November.
For more information, please contact Professor Ioppolo on g.j.ioppolo@reading.ac.uk or DM @ProfShakespeare on Twitter.