How mites helped find stolen cash - Reading in the news Wed 23 Oct
24 October 2018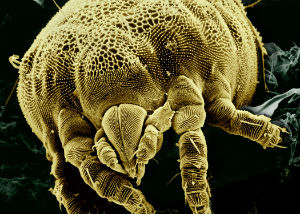 Mite detectives: The story of how Reading researchers used mites to trace stolen money in a criminal investigation in Germany is reported by the Independent, IFL Science, Yahoo News and MSN News. Read our news story.
Climate change myth-busting: Professor Ed Hawkins (Meteorology) went into the BBC Radio Berkshire (1hr 8mins) studio to give a scientific explanation to some frequently asked questions on climate change, after he won the Royal Society's Kavli Medal for climate change communication. Read our news story.
Village discovery: Kuwait News Agency reports that a team of archaeologists led by Professor Roger Matthews (Archaeology) have discovered the oldest agricultural village in Kurdistan. Read our news story on the Reading project aiming to shed light on the earliest villages in Iraq and Iran.
Corporate language on climate change: Research by Dr Sylvia Jaworska (English Language and Linguistics) showing the language used by oil companies to describe climate change in corporate social responsibility publication has changed in recent years to distance them from the issue, is referred to in an EcoWatch article looking at recent documents by a selection of oil companies. Read the article for The Conversation by Dr Jaworska about the research.
Other coverage
Professor Adrian Palmer spoke to BBC Radio Oxford (3mins 32 secs) about the first anniversary of the opening of the Westgate shopping centre in Oxford and how a focus on experience has helped it succeed in an age in which high streets are suffering
Professor Jane Setter (English Language and Linguistics) joined a discussion on BBC Radio Berkshire (2hrs 35mins) about the correct way to pronounce the word 'biopic', which then widened out to include other words