The MERL Annual Lecture 2018: Stepping out of Time
25 October 2018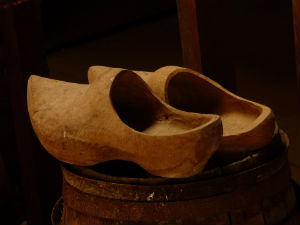 The 2018 MERL Annual Lecture is no ordinary annual lecture. This year we will be presenting a world-premiere performance of 'Muscle Memory' a new work from award-winning accordionist, singer and clog dancer, Hannah James.
Muscle Memory has been developed by Hannah in response to the collections at The Museum of English Rural Life (The MERL) and the traditions that have helped shaped them. Hannah will be performing in a pair of specially commissioned clogs made for her by Geraint Parfitt, one of only a handful of traditional clog makers in the UK.
Drawing on Hannah's visits to Geraint's workshop at St Fagans National Museum of Wales and her years of dancing experience, 'Muscle Memory' is a deeply personal and political story which seeks to explore and convey the life of clogs as both a product of master craftsmanship and as a tool for joyful partnership. It brings together craftsman and performer in a combination of images, spoken word, song, and of course, dance.
After the performance, Hannah will be joined by some of the MERL musicians in residence, including Jackie Oates, Katy Spicer, Chief Executive of the English Folk Dance and Song Society (EFDSS), and clog maker Geraint for a panel discussion on how creative responses can help us to understand the different layers of our heritage. Hannah has also made a short 'how-to' clog dancing tutorial film for The MERL, which will be played at the lecture.
Hannah James, musician and clog dancer says: "I was honoured to be asked to create this piece for The MERL but I didn't realise how deeply personal this project would become to me until I started working on it. Meeting Geraint and seeing how much he lives his craft, as I do, has made the whole process very special. I hope that the piece can communicate the strong connection that we both have to our work, and the importance of keeping crafts and skills alive."
Katy Spicer, Chief Executive of EFDSS, says: "EFDSS is delighted to be working with MERL on its Musicians in Museums project and to have the opportunity to discuss it within the wider context of the Museum of the Intangible programme at this prestigious event."
Kate Arnold-Forster, Director of MERL, says: "We are excited to be working with Hannah James and Geraint Parfitt to explore and interpret our collections at The MERL in innovative ways, and to combine these two aspects of our intangible cultural heritage - traditional craftsmanship and dance - in this unique performance."
The Lecture will take place on Tuesday 6 November at 7.15pm in the Great Hall on the University's London Road campus. Doors open at 6.45pm. The event is free but booking is essential:
https://merl.reading.ac.uk/event/stepping-time-merl-annual-lecture/
This year's MERL Annual Lecture is part of a programme of events and activities on the theme of 'Folk' at The MERL this autumn, which explore our changing perceptions of folk and folk culture. The lecture is held in partnership with the St Fagans National Museum of History, part of Amgueddfa Cymru - National Museum Wales, and the English Folk Dance and Song Society (EFDSS) and is funded by Arts Council England as part of the "Making, using and enjoying: the Museum of the Intangible" project at The MERL.