Research as you've never heard it before as festival returns to Reading
30 October 2018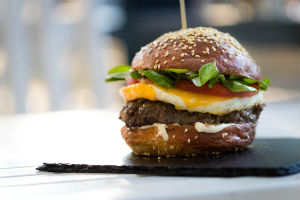 Families in Reading will be invited to attend a storytelling session with a difference, and learn about the UN at an American burger bar as the University of Reading joins a national celebration of social science research.
The Festival of Social Sciences returns for 2018 from 3-10 November, with five events organised by the University offering insight into social sciences research through public activities.
A multilingual storytime event will celebrate diversity in Reading, while a networking event demonstrates the power of self-confidence among parents and diners learn how the United Nations works from leading experts over a tasty meal. Further events will explore how society views and punishes crimes, and how different cultures treat death.
Professor Dominik Zaum, Pro-Vice-Chancellor for Research and Innovation at the University of Reading, said: "The annual Festival of Social Science is a fantastic opportunity for the university to engage the community in Reading in our research and in wider discussions of pressing local and global social issues.
"We are delighted to be part again of this national celebration of social science research. We would like to invite everyone to join us at these events, as well as at our ongoing programme of public lectures, seminars, and events that showcase the richness and diversity of our research."
The Festival of Social Sciences is co-ordinated annually by the Government's Economic & Social Research Council (ESRC) and incorporates dozens of diverse events and activities around the country.
Multilingual Storytime at Reading Library invites families to hear stories featuring the world's most commonly spoken languages, other than English, and engage with research from the University's Centre for Literacy and Multilingualism (CeLM). Urdu, Punjabi, Polish, Nepali, Swahili, Bengali, Portuguese and Hindi are just some of the languages visitors will hear.
Organised by the University's Institute of Education (IoE), the event aims to fill the void of family events in other languages to build children's vocabulary and academic development. The event is open to families that speak multiple languages, or just one. University experts will also be on hand to answer questions about supporting children to speak and read in their home language.
Fostering Effective Partnerships Within Communities is a free networking session held at the University of Reading which aims to improve support offered to local parents. Experts from the IoE are inviting professionals who work with parents in the area to discuss their initiatives and create new partnerships.
Parents who have participated in IoE initiatives, such as the Marvellous Mums scheme, will also be at the session. They will share their experiences, which support research showing building confidence and self-reliance among parents is an effective way of raising standards of education and increasing aspiration.
Getting To Know The United Nations is split into an afternoon event held at the University, and an evening event held at Smokin' Billy's in the town centre. Both will feature a panel of experts from the University's UN and Global Order Programme (UNGOP) explaining what goes on inside the UN – an organisation wracked by recent controversy and which many do not really understand.
They will present photographs from research projects that highlight different aspects of the UN's work, and outline some of its successes and failures in conflict zones around the world.
Deathscapes: Kicking The Bucket, Pushing Daisies In Reading will feature three events using games to discuss death. This will include the idea of a 'good death' in urban and rural settings, how our expressions of grief and bereavement are reflected in the environment around us, the emergence of 'dark tourism' and what happens to our online information after we die. The respective events will be tailored to young and older audiences.
Criminal Justice: The Limits Of Community will be hosted in a church and looks at what extent Christian values of justice and redemption are mirrored in how society reacts to crime. Presentations and mini lectures will discuss whether society's treatment of offenders is driven by a desire to punish and exclude, whether the death penalty really reduces crime rates and will use images and videos to bring the debate to life.
For more information on all events, and to book a place, visit https://esrc.ukri.org/public-engagement/festival-of-social-science/festival-events/events-in-south-east-england/
FULL LIST OF UNIVERSITY OF READING EVENTS
Fostering Effective Partnerships Within Communities
University of Reading London Road Campus, 4 Redlands Road, Reading, RG1 5EX
Tuesday 6 November 2018 – 9am-4pm
Multilingual Storytime: Celebrating Diversity
Reading Central Library, Abbey Square, Reading, RG1 3BQ
Tuesday 6 November 2018 - 10am-2pm
Getting To Know The United Nations (afternoon event)
University of Reading, Whiteknights Campus, Reading, RG6 6AA
Wednesday 7 November 2018 – 12pm-2pm
Getting To Know The United Nations (evening event)
Smokin' Billy's, 61 St Mary's Butts, Reading, RG1 2LG
Wednesday 7 November 2018 – 6pm-8pm
Deathscapes: Kicking The Bucket, Pushing Daisies In Reading
University of Reading London Road Campus, 27 London Road, Reading, RG1 5AQ
Friday 9 November 2018 – 3.30pm-8.30pm
Criminal Justice: The Limits Of Community
Reading Minister of St Mary The Virgin, Chain Street, Reading, RG1 2HX
Saturday 10 November 2018 - 10am-4pm