Childhood mental health research gets million pound boost
06 September 2018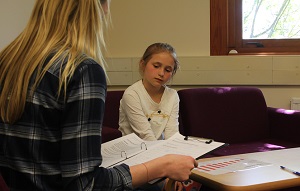 Children with mental ill health will benefit from a new research fund that will help to understand what support really works.
The Emerging Minds Mental Health Network has received £1.25m of funding by UK Research and Innovation (UKRI) to establish the best ways of helping as many of the one in ten children who experience a diagnosable mental health problem.
Professor Cathy Creswell from the AnDY Research Clinic at the University of Reading will be leading the network, with contributions from partners in Typography & Graphic Communication at the University; and other institutions including the NSPCC, YoungMinds, the research charity MQ, and seven other universities.
Professor Creswell said:
"Mental health research has told us a lot about what may benefit children, young people and families who are in need- yet many families are not seeing the benefits of this knowledge.
"The Emerging Minds Network Plus will bring together researchers from a broad range of disciplines, partners with lived experience, and those who are in a position to put the research in to practice to transform the promotion of positive mental health, and prevention and treatment of mental health problems in children and young people."
The new Reading-led Network was announced by UKRI as one of eight fields of enquiry, bringing researchers, charities and other organisations together to address important mental health research questions.
The Networks, which are supported with £8 million of funding and will be funded for four years (one for three), will progress mental health research into themes such as the profound health inequalities for people with severe mental ill health, social isolation, youth and student mental health, domestic and sexual violence, and the value of community assets.
Professor Sir Mark Walport, Chief Executive of UK Research and Innovation, said:
"Mental ill health is the single largest cause of disability in the UK, and it is estimated that almost a quarter of the country's population are affected by mental health issues each year.
"The UKRI Mental Health Networks will take a new approach to addressing this challenge by bringing together researchers across a wide range of disciplines with people who have experienced mental health issues, charities, health practitioners and other organisations. Through their work, the new Networks will further our understanding about the causes, development and treatments of a wide range of mental health issues."
Full details of the Emerging Minds network announced by UKRI is available below:
Emerging Minds: Action for Child Mental Health – ES/S004726/1
Led by: Professor Cathy Creswell, University of Reading
Partners: The University of Manchester, London School of Hygiene and Tropical Medicine, Swansea University, University of Bath, University of Leeds, University of Nottingham, Newcastle University, University of Reading, Mental Health Museum, YoungMinds, The Centre for Mental Health, MQ, The NSPCC, The Mental Elf
Approximately one in ten children and young people have a diagnosable mental health problem. Research has shown that there are clear indicators that predict the emergence of these conditions in children, but despite this only a small minority of children receive effective support. This network will bring together academics from health research, arts, design, humanities and physical science disciplines in order to establish the best ways of helping children, young people and families benefit from mental health research.