Student's discovery in Scottish castle - Reading in the news Wed 5 Sep
05 September 2018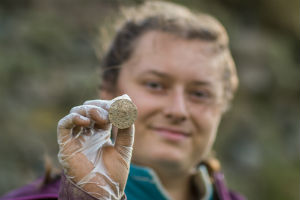 Novichok poisoning: As the police investigation into the Novichok poisoning in Salisbury continues, the Independent, Yahoo News and MSN News runs an article explaining what Novichok is and how it works, quoting Professor Gary Stephens (Pharmacy).
Archaeological discovery: BBC Radio Berkshire (2 hrs 8 mins) interviewed Professor Steve Mithen (Archaeology) about a rare document seal found during the University's summer school at Dunyvaig Castle on the Isle of Islay in Scotland, and also heard from student Zoe Wiacek who made the discovery. Read our news story.
Lloyds boss resignation: BBC Radio Ocford (1 hr 2 mins 30 secs) interviewed Professor Brian Scott Quinn (Henley Business School) on the Lloyds TSB boss stepping down following the bank's IT fiasco.
Student visa call: A Universities UK proposal to reintroduce a two-year visa for international graduates to help them find employment in the UK was reported by BBC Radio Berkshire (1 hr 6 mins 42 secs), who spoke to Reading's head of International Recruitment Andy Howman about how the new system would work.
Other coverage
A repeat of a Food Unwrapped episode on Channel 4 featured a visit to Reading to speak to Professor Lisa Methven (Food and Nutritional Sciences) to find out if MSG is as harmful as often reported.
An obituary for University of Reading graduate and TV botanist Gordon Hillman appears in Nature.
Media Max Network mentions research by Emeritus Professor Phillipa Darbre (Biological Sciences), linking deodorants with breast cancer, in an article on women who prefer not to share their body hair.