Where are all the hedgehogs? - Reading in the news Fri 7 Sep
07 September 2018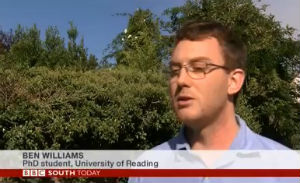 Hedgehog decline: A study led by Reading PhD student Ben Williams (Biological Sciences), which showed hedgehogs are now absent from large parts of the UK countryside, is covered by the Guardian, Times, Daily Mail, Telegraph, Independent, Countryfile magazine, Express, Yahoo News, The London Economic and Northern Echo. Ben was interviewed on BBC South (22 mins 40 secs) and a number of regional BBC Radio stations (Wiltshire (46 mins 55 secs), Cambridgeshire (1 hour 29 mins 40 secs), Suffolk) as was with Nida Al-Fulaj from the People's Trust for Endangered Species (Berkshire, Shropshire, Cumbria, Nottingham, Sheffield), which was a partner in the study. Read our news story.
Arctic shipping routes: Dr Nathanael Melia (Meteorology) is quoted in a Breakbulk article on Arctic shipping routes, after a cargo ship was able to sail from China to Europe via the Arctic Northeast Passage for the first time, due to declining sea ice.
Novichok attack suspects: Wired.co.uk quotes Professor Gary Stephens (Pharmacology) in an article looking at how the suspects identified by British police as responsible for the Novichok assassination attempt on a former Russian spy in Salisbury in March were able to get the vial of the deadly nerve agent past airport security, and on the 'sloppy' way it appears it was handled.
Other coverage
Newswise reports on a new study co-authored by Reading's Dr Tim Salomons (Psychology), which suggests people who are more 'mindful' feel less pain.