Work with us to boost regional growth, Vice-Chancellor asks business
13 September 2018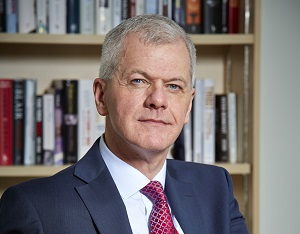 Businesses and universities can create jobs and heal social divisions by working together after Brexit, the outgoing head of the University of Reading has said.
In a speech in Oxford last night, Sir David Bell, Vice-Chancellor of the University of Reading, told regional business leaders that they should work with universities to create new skills and ideas to drive Britain's economy after the UK leaves the European Union.
"Our universities are the obvious place to look for innovative ideas," Sir David told members of the Thames Valley Chamber of Commerce, at a business alliance leadership dinner.
"Universities are excellent places to bring businesses both large and small together, to network, make new contacts and hopefully explore new partnerships. Businesses can access a wealth of expertise in enterprise development at their local university."
Sir David, who leaves the University of Reading this month to become Vice-Chancellor and Chief Executive of the University of Sunderland, said he had decided to make the switch from one of the richest parts of the country, to support a region that 'continues to face significant pressures'.
"The social justice flame still burns brightly in me and I want to go back to a place that I know really well and where I think, through my new university, I can make a renewed contribution," he said.
Universities and businesses in the more prosperous South-East should work together not just for their own good, but to help heal divisions across UK society after Brexit, he said.
"Success is not a zero-sum game," Sir David said.
"We don't live in a bubble here in the Thames Valley and the success of our fellow citizens, wherever they live, should concern us as much as the fate of those nearer and closer to us."
In his speech he also outlined how:
The UK should maintain a flexible migration policy, including by reforming the system of student visas, to help universities and the economy
Companies and universities should work to open up routes to education for those from all backgrounds, including helping older people to re-train
The Thames Valley region should build on its strengths to encourage entrepreneurship and high-tech start-ups, while also making use of its creative and cultural assets.
He outlined the University of Reading's strategy of working more closely with business, including with the opening of its Thames Valley Science Park and by doubling the size of its Knowledge Transfer Centre, which acts as a 'front door' for businesses looking to interact with the University.
Businesses wanting to see how they could work with the University of Reading can contact the Knowledge Transfer Centre on 0118 378 8153 or via frontdoor@reading.ac.uk or find out more on the 'Working with business' website.