Tracking tropical storms and AI assistants - Reading in the news Mon 17 Sep
17 September 2018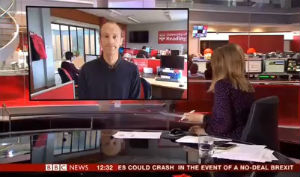 Tropical storms: The impacts of both Hurricane Florence in the US and Typhoon Manghut in the Philippines were discussed on BBC News 24 and BBC Radio Wales (approx 38 mins) by Professor Richard Allan (Meteorology) and Dr Chris Holloway on BBC News 24 later in the day. Comments by professor Allan were also used in the Express.
AI assistants: HR Review, People Management and Workplace Insight quote Naeema Pasha and Professor Bernd Vogel (Henley Business School) about new research announced at the business school's World of Work 2030 conference, which claims the average worker could get 12 working days back every year thanks to computers and robots taking on administration tasks.
Financial crash anniversary: Dr Nafis Alam (Henley Business School) authors a piece for International Business Times and MSN News on the five biggest risks that could lead us into another financial crash, on the 10th anniversary of the Lehman Brothers collapse.
Church's Amazon investments: Revd Mark Laynesmith, University of Reading Anglican Chaplain, spoke to BBC Radio Berkshire (2 hrs 5 mins 30 secs) about the Archbishop of Canterbury's criticism of Amazon, which was followed by the revelation the Church of England has investments in the company.
Other coverage