Reading in the news - Mon 1 Apr
01 April 2019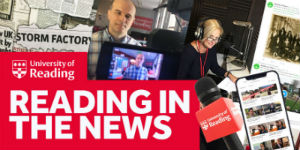 Volcanic lightning: Atlas Obscura reports on a study by Dr Keri Nicoll (Meteorology) into lightning that occurs when a volcano erupts.
St Pat's inquiry: The Reading Chronicle reports on the final day of the public inquiry into the University's St Patrick's Halls appeal. Read our latest news story on the plans.
Property Week: Property Week quotes Professor Peter Wyatt (Real Estate and Planning) on the first ever Court of Appeal case over the payment of a Community Infrastructure Levy.
Female leaders: Dr Shaheena Junjuha-Jivraj (Henley Business School) spoke to Management Today about how women can lead change in society.
Other coverage