Gardeners asked to help identify the invasive plants of the future
03 April 2019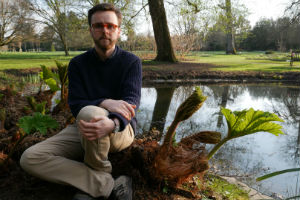 The destructive potential of ornamental plants found in gardens across Britain and Ireland is the subject of the most ambitious Chelsea Flower Show exhibition ever created by the University of Reading.
A 2.4m high structure representing invasive Giant Rhubarb (Gunnera sp.) will tower over a stand featuring dozens of invasive and potentially invasive ornamental plants. These plants can takeover natural areas if gardeners don't dispose of them responsibly, for example by throwing them over their garden fences into wild areas. Plants such as Giant hogweed are now banned from display at Chelsea, even though these were first introduced as ornamental plants.
There will also be plants that are found growing beyond the garden fence or are showing signs of being able to thrive in the natural environment. Examples include Lady's mantle, Heart-leaved houttuynia and Chinese windmill palm. These are not currently regarded as invasive, prompting the challenging question; which ones will be our future invaders?
See preparation for Chelsea exhibit >>>
These plants, amongst others, are currently being grown at the University in preparation for the show. The plants were selected by Tomos Jones, the PhD student managing the stand, as a result of his recent survey asking gardeners to report plants invading or taking over their gardens. Visitors to the exhibit will also be able to help prevent future invasions by sharing observations from their own gardens.
"I don't want visitors to leave thinking that all ornamental plants are 'evil'. It will show that most are valuable additions to gardens and can be important for wildlife" - Tomos Jones, University of Reading
Tomos Jones said: "Many ornamental plants favoured by gardeners for their beauty have the ability to escape beyond the garden fence and have a damaging effect on the environment.
"Invasive plants that are not managed or disposed of responsibly can spread quickly and dominate landscapes, to the detriment of native species. We are asking the public to help identify plants showing invasive characteristics. We will also investigate how they might behave in the future due to climate change.
"This exhibit is the University's most ambitious yet. I don't want visitors to leave thinking that all ornamental plants are 'evil'. It will show that most are valuable additions to gardens and can be important for wildlife by supporting native biodiversity such as pollinators and other insects. The exhibit will also explain how to manage plants responsibly in your garden."
The University's latest stand at the world-famous show is the result of collaboration between plant experts in the School of Biological Sciences and the School of Architecture who have co-designed the structure. Students from the School of Arts and Communication Design are designing the interpretation and leaflets for the exhibit. This is part of a NERC SCENARIO PhD project co-ordinated within the Department of Meteorology.
Gardeners have an important role in preventing and managing invasive plants in their choice of ornamental plants, and by adopting good gardening practices such as disposing of plants responsibly. Information about how ornamental plants escape into the countryside and how gardeners can prevent invasion will be displayed at the University's stand.
Chelsea Flower Show attracts more than 150,000 visitors every year and this year's show runs from 21-25 May. Previous University of Reading exhibitions have featured a display of carnivorous species, the power of plants to cool cities and grass-free lawns to help urban biodiversity.
Read more about this year's exhibition here http://blogs.reading.ac.uk/crg/phd/tomos-jones/
The survey can be completed online here https://reading.onlinesurveys.ac.uk/ornamental-plants