Army partnership to enhance development of University recruits
05 April 2019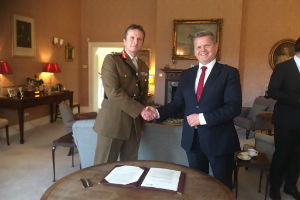 A new partnership between the University of Reading and the Royal Military Academy Sandhurst (RMAS) will allow military and academic expertise to be shared in a unique way.
A Memorandum of Understanding (MoU) will open up possibilities for exchange programmes for University staff, postgraduate research students and army officers, enabling them to enhance their skills in a very different environment.
The five-year MoU was signed on Monday evening by Professor Robert Van de Noort, Vice Chancellor of the University of Reading, and Major General Paul Nanson, RMAS Commandant. It builds upon the Army Higher Education Pathway (AHEP), which currently allows Sandhurst officers to achieve a formal academic qualification in Leadership and Strategic Studies at the University.
Professor Van de Noort said: "This Memorandum of Understanding strengthens the University's existing relationship with the British Army at Sandhurst. It sets in stone the Army Higher Education Pathway, which allows academic expertise in Henley Business School and the School of Politics, Economics and International Relations to enhance training of the army officers.
"Now, University staff and students will also have the chance to experience a new environment and get a fresh perspective on their research and professional development."
'Learning from each other'
The MoU will provide opportunities for mutual staff training and exchange of expertise, including through the University's Ways of War Centre. Further collaboration is expected on events, publications and joint bids for research funding.
Henley Business School is the academic implementation partner for the award-winning AHEP scheme, which began in September 2017 and is also delivered by the School of Politics, Economics and International Relations. Selected officer cadets entering the Commissioning Course at RMAS can pursue a Bachelor's or Master's degree during the early years of their career.
The course is taught face to face and online, offering digital learning access to officers spread around the UK and abroad. It is intended to equip them with skills to deal with a variety of scenarios in the field of duty.
Professor Dominik Zaum, Pro-Vice-Chancellor for Research and Innovation at the University of Reading, said: "Both the University of Reading and RMA Sandhurst have long-standing and distinctive traditions of inquiry and education. We are already bringing these traditions together in the education of army officers, and look forward to exploring further areas for collaboration in education and research, and learn from each other.
"While the partnership to date has involved in particular the School of Politics, Economics, and International Relations and Henley Business School, opportunities from this partnership stretch across many of our schools and disciplines beyond those areas."
Image credit: Major General Paul Nanson, Commandant at the Royal Military Academy Sandhurst (RMAS) (L), and Professor Robert Van de Noort, Vice Chancellor of the University of Reading, sign the MoU at RMAS