Reading in the news: 8 April
08 April 2019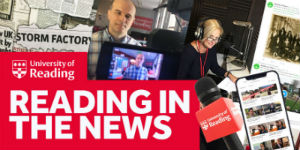 Conditional unconditionals: Prof Paul Glaister (Maths) writes to the Times (£, and in print) about the practice of 'conditional unconditional' offers by Universities.
Protein 'gainz': Delicious Magazine spoke to PhD candidate Drew Price (Food) about the 'obsession' with protein consumption.
Business study: Further coverage in the print edition of the Financial Times (£) about scholarships to help with the cost of attending business schools mentions mature student Debbie Craven who is studying at Henley Business School.
Other Coverage
Al Jazeera Magazine report on Iranian students in the US raising support for their studies, and mentions Law student Parsa Sadat.

The print edition of the Reading Chronicle reports on the end of the planning inquiry about the redevelopment of St Patricks Hall.

Research from UoR into new farming techniques to prevent apple tree diseases is mentioned in an article for Country Smallholding.

Following James Cracknell's winning performance at the Boat Race on Sunday, Cambridgeshire Live spoke to him about his comeback – and mentions that he saw Nirvana during his student days at UoR.