Reading in the News - Tue 9 Apr
09 April 2019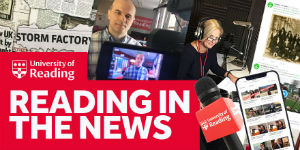 Exam anxiety: Research by the University into the effects of blueberries on cognitive performance has been mentioned in an article by The Times on ways to reduce exam anxiety.
Social enterprise: The Just Imagine If… scheme has been featured in an article by The Independent on how businesses are tackling the world's problems through enterprise.

Other Coverage

EnviroNews (Nigeria) has an article on Professor Chukwumerije Okereke (Geography & Environmental Science), who will write future articles for the news website.
Fresh Produce Journal mentions the University in an article about the Global Berry Congress.
Round&About Magazine (Windsor) featured an article on an All About Autism Day, which took place in Slough on April 2, which featured experts from the University.